As you may know, our factory is in Texas, which can get pretty hot in July, so to help cool off, we will talk about IP Freezer Cameras today. We have a full line IP network PTZ, Bullet, and Dome Cameras designed to survive in -40 below zero temperatures. Cold Storage and Freezer Facilities are some of the most challenging environments we serve and navigate the many challenges associated with frigid temperatures. So to help you choose the suitable cameras for you, here are the top freezer and cold storage cameras for large and small spaces.
What are the best cameras for walk-in freezers and cold storage facilities?
Here's are our pick for the best freezer cameras for large and smaller spaces.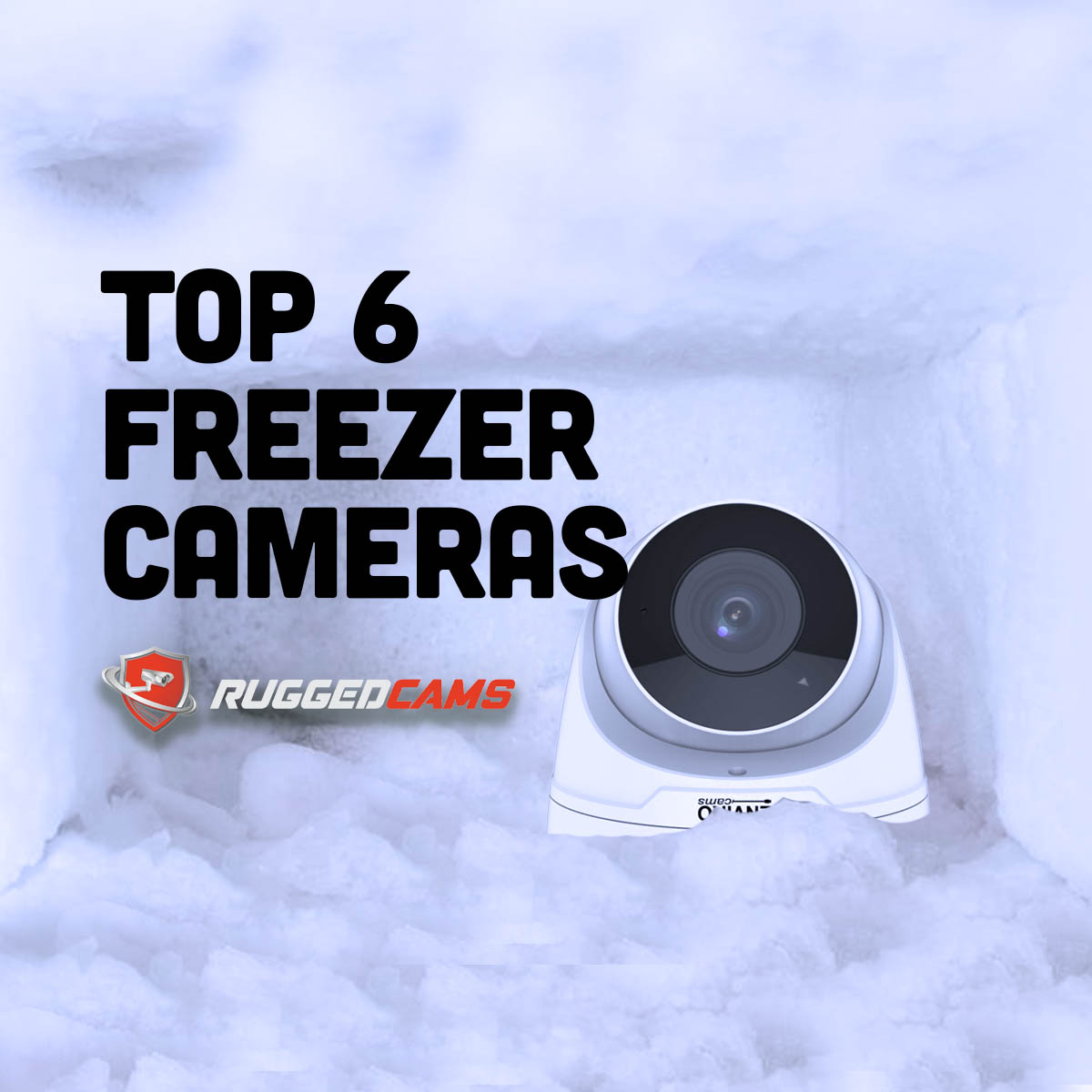 TOP 3 FREEZER CAMERAS FOR LARGE AREAS
The Scout-IP is our lowest cost Pan Tilt Zoom camera but is full of high-end features. It is excellent for those tremendous big warehouse freezers with its full 360 degrees pan, auto-reversing tilt, and motorized 22x zoom, and you will not miss a thing. This low-cost PTZ is rated to -40 degrees below zero and 149 above. It also can operate in our Exclusive "Extended Mode" out to 820 feet away from the NVR or switch. You can program up to 1024 Preset Positions and be programmed to perform a Preset Patrol Route and a Recorded Patrol sequence.
One of the best features of this IP network camera is the Motorized Varifocal Lens. This 2.8-12mm Zoom Lens gives you a 90-degree wide picture when zoomed out – then zooms all the way into a 28-degree wide picture. This makes it extremely easy and fast to fine-tune your scene, no matter where you mount this camera. The N-Range IP Bullet cameras are excellent for large areas where maybe you have a problem with the frozen items walking off; use the motorized variable focal length lens with a 2.8 – 12mm zoom lens. Although this camera does not have a built-in microphone, it does have audio Input & Audio Output wires to support Two-Way Audio. This feature will allow you to talk to someone at the camera end by adding a powered speaker and microphone.
This little Compact Infrared Bullet Camera from Enviro Cams is so tiny that it can fit in the palm of your hand. The camera body itself is only 3-1/2" long, and the whole thing, mount included, is only a little over 6 inches long. However, don't let the small size fool you. This compact bullet packs a punch! The Bantam-4M is a 4 Megapixel (2K) Compact Bullet Camera with a built-in microphone. It gives you excellent High Definition Video Indoors or Outdoors and picks up audio very well. This compact IP bullet camera will help keep an eye on who comes in and out of the freezer with a fixed 4mm wide-angle lens; it is best used within 10 to 12ft of the area that it is monitoring.
TOP FREEZER CAMERAS FOR MEDIUM TO SMALL SPACES
The Sentinel Camera It is hardened for outdoor use but works great indoors as well outdoors. For example, this dome camera is IP67 Weatherproof Rated for outdoor use in any weather and IK10 Vandal-Resistant Rated. In addition to that and possibly importantly for a freezer and cold storage purposes, the fact that this camera is rated down to -40 below and +140 (F), you have a camera that is ready for anything you can throw at; it! This means that this camera has been tested with the equivalent of a sledgehammer weighing more than 11 pounds – being dropped onto the dome from about 18" – with no damage.
The Occulus is one of our most popular security cameras for freezer and cold storage installations and general use business security camera applications. It is a workhorse of a security camera! The camera uses Intelligent Metering to gauge the available light and picture darkness to set all of the lighting parameters, such as; Brightness, Backlight Compensation, etc., and sets them in milliseconds consistently to deliver the best possible picture under all lighting conditions. Another great feature of the Occulus is its built-in microphone allowing you to capture excellent video and audio! The Occulus has automatic Day/Night functionality with an IR Cut Filter and a low light changeover (at 0.02 Lux).
The Micron is often called the "pocket dome camera" because it is the most miniature dome security camera we offer. Like the Occulus, the Micron is one of our more popular business security cameras. This is due to its small size and versatility. This camera can be utilized almost anywhere. With a temperature range rated down to -35 below and +140 (F), and you have a camera that is ready for anything you can throw at it. The 2.8mm Fixed Lens is Super Wide (90 degrees) and is best used where the area being watched is close. For example, when watching a door entry or exit, the area in the best focus is approximately 8-12 feet out. Anything farther out still looks excellent, but the best focus is within that 8-12 feet.
 We know that choosing the right camera for your business can be daunting. There are so many options and so many things to consider. That's why we are here! We love to help our customers choose only the best and only the essentials needed for your application. We won't up-sale you cameras you don't need. We offer you a completely free system design that outlines everything you need. For more information on the IP Freezer Cameras and to start your free system design, contact one of our Design Engineers toll-free at 866-301-2288.