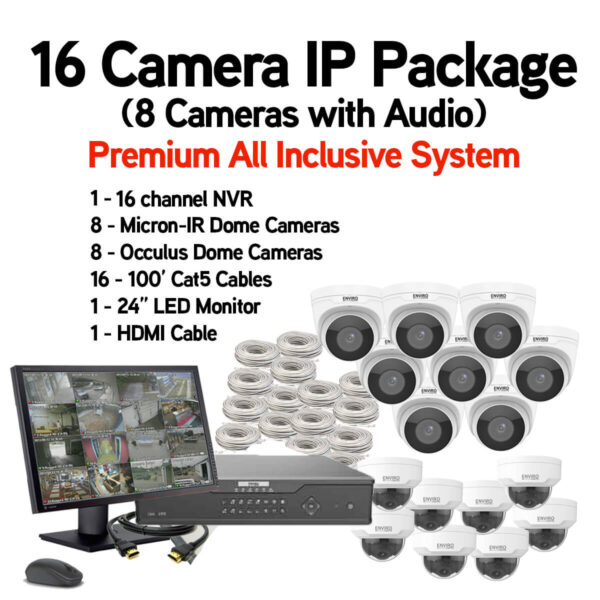 RuggedCams is a step above all other security camera businesses. This IP video system is our new innovative line in easy-IP products. The six-camera IP package is made for any weather, long-distance (video, power, and audio up to 820ft over cat5e or cat6 cable), plug-n-play IP video system. By using the app guard station or guard viewer, you have the ability to view your view and audio with your smartphone, tablet, or personal computer. 
Network Video Recorder
The Eight-channel NVR (part# EC-NVR-P108) with a 2TB hard drive installed with the option to upgrade the hard drive to as much as 8tbs (only placement for one hard drive). The NVR is not a stripped-down model; it is packed with features, along with a three-year warranty.
Plug-N-Play Automatic Connections (Putting an end to setting each IP address – Let Rugged Cams do it automatically!) Many States and Cities require NVRs to be UL listed, and you will find that our NVRs are UL listed.
 No worries against Cyber-Attacks with the features of encrypted and enhanced protection. Supports H.264 / H.265 and our New H.265+ Video Formats (Rugged Cams new H.265+ Can Save up to 95% Bandwidth).
Remote Viewing and Control of everything via VMS (Desktop), and Smart Device App (Droid/iPhone/Tablets) – all Remote Software provided Free with easy updates of the equipment. 
Internet Protocol Camera
The six Occulus 4MP 2K IP Dome Cameras (part # EC-IRD4-2712M) can handle temperatures as low as -40º Fahrenheit or as high as +140º Fahrenheit. A motorized 2.7mm to 12mm varifocal auto-focus megapixel lens uses the narrow view for down the aisle or the wide view for the whole room or parking lot. The Electronically Isolated Junction Box is included when purchasing the camera. The Optically Clear Glass front protects the lens that maximizes the amount of light reaching the lens. A specially made polycarbonate ring covering the IR LED's has a special coating that controls reflection and passes Infrared Light easier and farther. The On-Screen Display can be turned on with Time, Date, and a location name or other label. This intelligent IP camera also uses Smart Analytics; when this feature is turned on, the camera can alert you when someone goes into an area or when an object has been removed from the scene. There is a lot more Smart Analytics that come with the Occulus.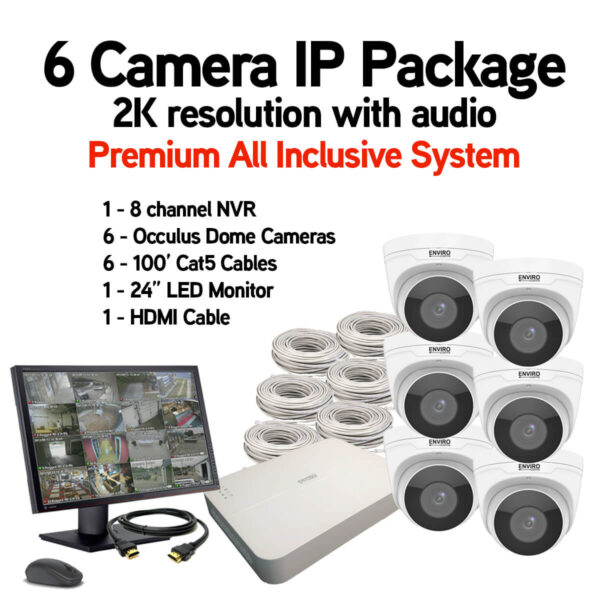 100′ Pre-made Cable
The six 100ft pre-made cables (part # EC-100Cat5e) giving you one single line for audio/video and power. They are pre-made with the Cat5e EZ RJ45 connectors with no need for a tool kit's extra expense. Six 100ft pre-made Cat5e cables also come with this package.
24″ Monitor
A 24inch LED HDMI monitor (part # EC-24″1080) is included in this package. The monitor consists of the monitor, power adapter, power cable, HDMI cable, and the user's manual. The available features include DC 12C power input, display area, VGA input video input interface, and HDMI input video input interface.
Plug-N-Play
Our IP Six Camera Package with Audio is easy to install because of being Plug-N-Play. Run the pre-made cable and plug it into the NVR and the camera, then plug the monitor into the NVR, and you should get a picture within a few seconds.
Viewing app capabilities with Audio
With the complete IP Six Camera Package with Audio made for your businesses and industrial environments, all six cameras can be mounted inside or outside. Connected back to the NVR and viewed with the monitor or by the app from a cell phone, tablet, personal computer, and laptop anywhere in the world.
Warranty and Tech Support
The Six Camera IP Package with Audio comes with a 3-years warranty, with unlimited tech support for life. We also have a tech-support page on our website with lots of how-to videos. On our tech support page, you may also see video from the Occulus IP dome camera, along with all the IP cameras we offer. A reminder the NVR is an eight-channel NVR, so you have the ability to add a couple more cameras to the system.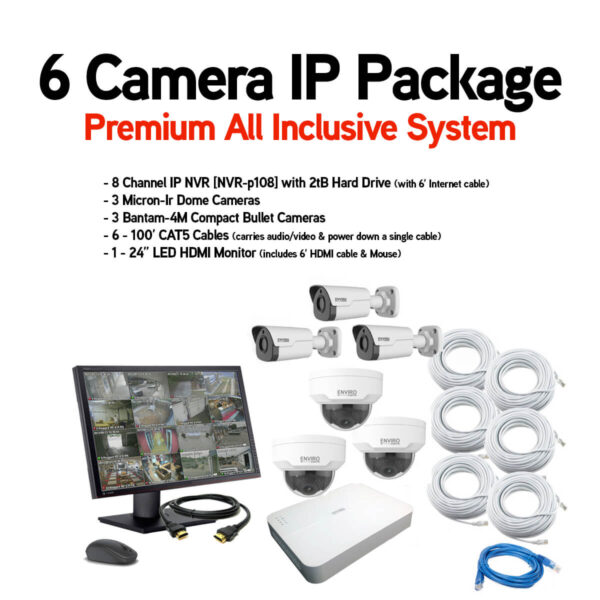 About us and contact information
Rugged Cams has manufactured security cameras and systems for businesses and industrial environments for more than 25 years. We have designed security camera systems for businesses of any size, from mom and pop stores to fortune 500 industries. No job is too big or small, not sure of what you need in a security system; let our Desing Engineers design a plan for you; it is free and personalized for your business; all that is required is to submit a layout of the property and let the engineer do the rest. To see how the Six Camera IP Package with Audio can be used in your business or more information on the camera package, contact one of our Design Engineers toll-free at 866-283-6003.