PTZ Camera for Mobile or Stationary Installations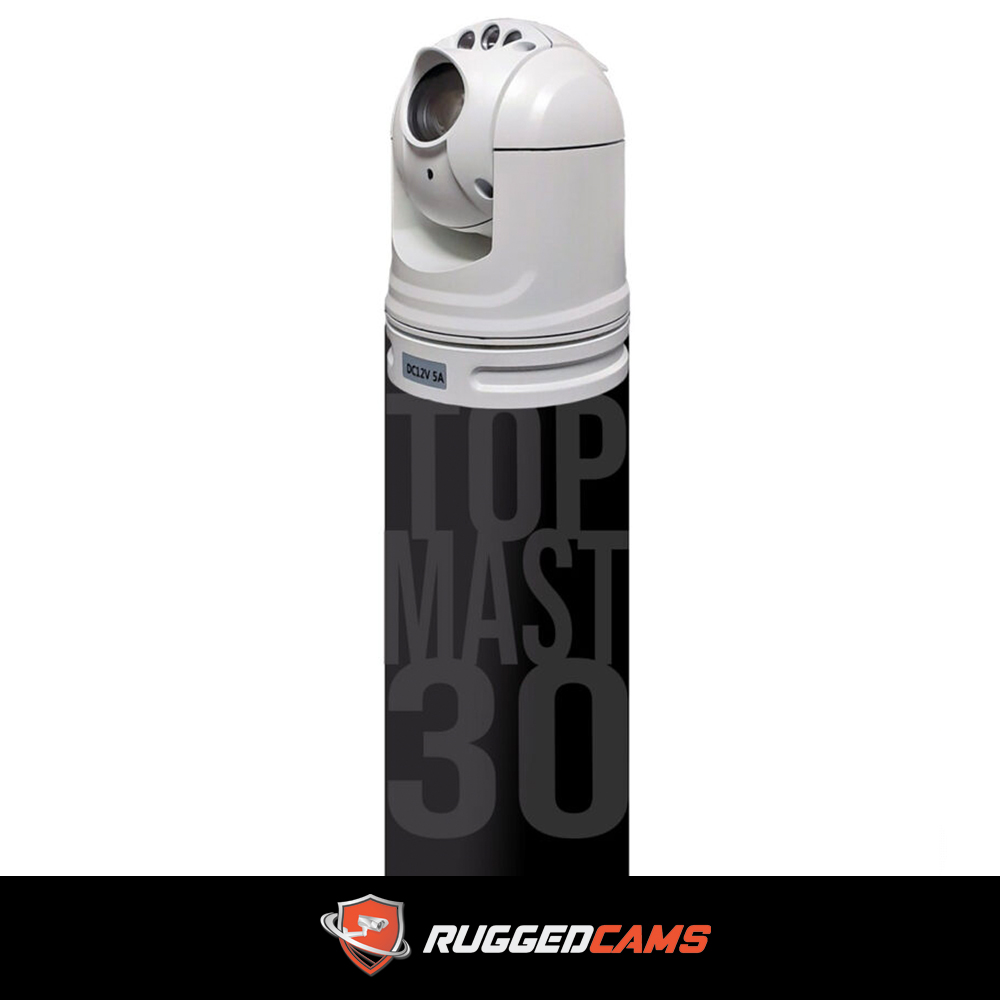 We are RuggedCams because of IP PTZ (Pan Tilt Zoom) Cameras like this one, the Top Mast-30X. Ready to take on the roughness of Mobile or Stationary applications or the harshness of any weather you want to throw at it. That is why lots of storm chasers are making the change to the Top Mast-30X IP Pan Tilt Zoom Camera.
Built Tough
The Top Mast-30x may be compact in size, standing less than 9inches tall, encased inside a rugged aluminum housing. When it's in the storage position, it can hide its lens for protection—made to take on the roughness of mobile or stationary applications.
Stationary Feature
The Top Mast-30x can be program for leisure autorun, run home position, preset, cruising tracks, pattern scan, right and left scans, and frame scan. The best feature is the power-up memory function; no worries, if loss of power happens setting will automatically resume its prior positions or action before the power outage.
Mobile Feature
The Top Mast-30x has an incredible 30X zoom lens (4.5mm to 135mm) that can extend its effective range out to hundreds of feet and backs that up with high-speed pan and tilt speeds (although, when you zoom in, the camera slows down its speed to smooth the tracking that you may be trying to do).
Infrared or Starlight
The Top Mast-30X has built-in Infrared LED Lamps that can throw out light to as much as 175 feet and automatically dim with close-up situations or turn off the infrared lighting at night and use the Starlight feature by using very little light you will see the video in color.
Harsh weather
The Top Mast-30x has a high-strength aluminum Pan Tilt Zoom case to withstand harsher environments. It is made to withstand the harshness of any weather you want to throw at it. It has an IP66 weatherproof rating for outdoor use and a comprehensive temperature rating of -4 degrees below or +149 degrees Fahrenheit.
Easy Installation
The Top Mast–30X is not your father's IP where you had to set up the IP address, with our NVR or switch the Pan Tilt Zoom is a plug-n-play easy connection and setup. The camera and NVR can be up to 800 feet apart; by using standard Cat5e or Cat6 cable and still get video and audio, the Pan Tilt Zoom must be powered by its own power supply and needs to be closer to the camera.
Easy To Control
The Top Mast-30X Pan Tilt Zoom is simple to control thru the NVR, but you access the video and control it by using the app from your cell phone, tablet, or personal computer from anywhere in the world. You can also control the Pan Tilt Zoom by utilizing an IP PTZ controller; our controller will allow access to the camera's various menus.
Pan, Patrol, and Patterns
The Top Mast-30X has the panning ability of full 360 degrees with auto-reversing tilt motorized 30x zoom and 225 preset that is savable. The patrol is six sequences with up to 18 presets and with four patterns with a total recording time of ten minutes.
Viewing app capabilities
The Top Mast-30X IP Pan Tilt Zoom camera can take the roughness of Mobile applications or the harshness of any weather you want to throw at it. So whether this IP Pan Tilt Zoom is mounted on a Mast on a vehicle or is stationary mounted, the Top Mast–30X is a great choice when you need all the features the big boys have, but in a compact size. Connected back to the NVR and viewed with the monitor or by the app from a cell phone, tablet, personal computer, and laptop anywhere in the world.
Warranty and Tech Support
The Top Mast-30X comes with a 3-years warranty, with unlimited tech support for life. We also have a tech-support page on our website with lots of how-to videos. On our tech support page, you may also see video from the Top Mast-30X, along with all the IP cameras we offer.
Shipping Made Easy
The Top Mast-30X can be ground shipped by UPS or Fed-ex ground. The shipping weight of 11lbs and the package dimensions of 16x14x10 inches make it simple to ship after your order. We can also ship outside the USA by using DHL. Overnight shipping is also an option. Contact us for shipping rates.
About us and how to get in touch
We know that choosing the right camera for your business can be daunting. There are so many options and so many things to consider. That's why we are here! We love to help our customers choose only the best and only the essentials needed for your application. We won't up-sale you cameras you don't need. We offer you a completely free system design that outlines everything you need. For more information on the IP PTZ camera and to start your free system design, contact one of our Design Engineers toll-free at 866-301-2288.