OUTDOOR INFRARED PTZ SECURITY CAMERA
Laz/IR Starlight Laser IR PTZ
We all know that surveillance cameras have a great picture during the day, but what does the image look like at night. Most criminal activity happens under cover of night. With our IP PTZ camera, you will not be a victim but the one who caught that criminal. The LAZ/IR IP PTZ Camera is the answer to that problem. 
Seeing in the dark and Power in the Lens
The Laz/IR is a 2 Megapixel Outdoor Starlight Infrared PTZ Camera with an Onboard Laser Infrared Module that Lasers Light as far away as 1600 feet!
This incredible Laser Module also zooms and narrows in synch with the 33X Zoom Lens, so they work in tandem to ensure that the area you are trying to see is illuminated – even if it is more than a ¼ mile away (or further).
Would you please take a look at the nighttime footage from this Laz/IR PTZ? This camera delivers the smoothest, best-focus nighttime pictures than just about any other PTZ we've ever seen.
The Laz/IR also has regular Infrared Lamps onboard for illuminating people or objects closer to the cameras. So it is not only an excellent long-distance camera – but a tremendous close-in camera as well. You get the best of both worlds with the Laz/IR PTZ.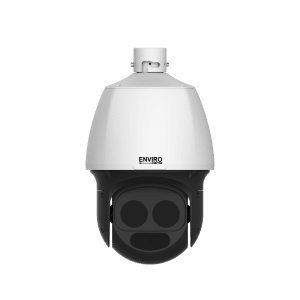 This 2 Megapixel Starlight Network Camera is primarily designed for outdoor use. It is outdoor-rated (IP66), but since it carries an actual Laser Infrared Module capable of great distances, it needs ample space to operate.
The Infrared LED Lamps also onboard can throw light around the camera's location to almost 100 feet. But when you need to see farther – the Laser will deliver. Need to see a gate more than a quarter of a mile away? No problem – the Laz/IR will illuminate it. Need to see down a fence line that stretches hundreds and hundreds of feet? Got it covered.
(or – in Starlight Mode – you can turn off all the Infrared lamps and Laser and go stealth!)
Intelligent Analytics
The LAZ/IR does more than a video; this camera is packed with intelligent analytics. When these features are turned on, the camera will alert you of things that happen around your property. Here are a few features: intrusion and motion detection or line crossing will let you know that someone is not supposed to be in an area. A de-focus or camera tampering feature will let you know if something is put in front of the camera or even the lens has been spray with something. Scene Change is another Identification feature. The LAZ/IR can alert you if something in the scene should change, such as missing a valuable laptop or a high-value item that is no longer on the shelf. 
Alarm System and Audio
The LAZ/IR has the feature to add an alarm with two input connections and one alarm output connection. For example, connect a door sensor and turn on a light or siren, so you know when someone shows up at your gate, the alarm will sound, and if you hook up lights and a siren, that will sound. So not only has an alarm going off for when you have a visitor, but you can also talk to that person and tell them that you are on your way to the gate because the IP PTZ is also equipped with audio input wires and audio output wires, making it possible to add an external mic or a two-way speaker. 
Backup recording
The LAZ/IR and Micro SD Card (purchased separately) can turn the IP PTZ into a stand-alone camera by recording to the SD card or using a backup if loss of power happens. When power is restored, the card will automatically download all the recordings to the NVR.
Easy Installation
The LAZ/IR is a plug-n-play IP PTZ camera with our NVR or switch. With the bonus feature of 800 feet for video and audio over standard Cat5e or Cat6 cable. This PTZ pulls a lot of power, so Operation Voltage must be more local to the camera (within 100′ max when using DC voltage – and within a couple of hundred feet when using AC voltage).
Easy To Contol 
The LAZ/IR is simple to control thru the NVR, but you access the video and control it by using the app from your cell phone, tablet, or personal computer from anywhere in the world. You can also control the PTZ by using an IP PTZ controller; our controller will allow access to the camera's various menus. 
Enviro Cams Warranty and Tech Support
The LAZ/IR comes with a 3-year warranty, with unlimited tech support for life. 
The Tech-Support toll-free number is 866-283-6003, which can be reached Monday thru Friday, 8 AM to 4 PM (Central Time).
We also have a tech-support page on our website with lots of how-to videos. If not sure of the video quality of the cameras, we also have video from here on our property; in most cases, it shows you day and night video. 
About us and how to get in touch
Enviro Cams is a member of The Rugged Group, a family of companies headquartered in Texas. For more than 25 years, The Rugged Group has been manufacturing and Patenting products in the Security Industry. We have Design Engineers here to give a free quote for your site; all you need to do is send us your site plan; we will get you that quote within 24hours. For more information on the IP Pan Tilt Zoom Camera, contact one of our Design Engineers toll-free at 866-264-0041.