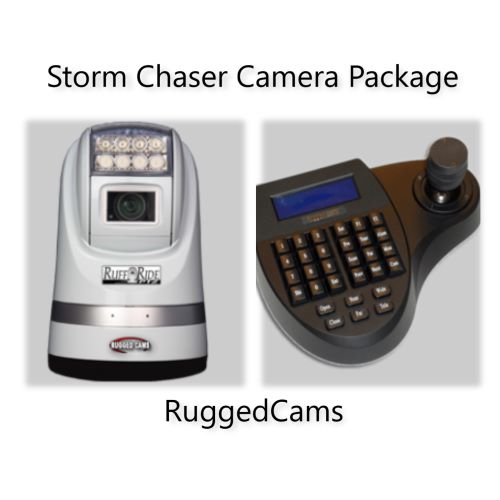 Spring storm season is upon us. Do you have the right equipment to caption that storm you are chasing? With our Storm Chaser PTZ Package, you do. The package comes with a Ruff Ride HD-SDI WL or IR 30x and a Mini 3D PTZ Controller.
Models:
Ruff Ride HD-SDI PTZ IR 30X (Infrared Version)
Ruff Ride HD-SDI PTZ WL 30X (White Light Version)
The Ruff Ride HD-SDI PTZ Camera has a Broadcast Frame-rate 59.94fps. This means this camera is directly compatible with Broadcast equipment.
This rugged, Weatherproof PTZ Camera is entirely waterproof to IP67 standards and has an internal Heater that will keep this PTZ Camera operating at temperatures down to -50°F Below Zero (-45° C).
Choose Between Two Types Of On-Board Lights
The Ruff Ride HD Mobile PTZ carries its own lighting to light the area in low light conditions. The Model with Infrared Lamps is commonly used where invisible IR lighting is needed and is viewed by the camera in Black & White (Mono) mode. The White Light Model is used where visible light is desired, and a Color picture is needed.
Mini 3D PTZ Controller: the joystick controls pan, tilt and zoom, camera selection, and various functions are controlled via keyboard. LCD Screen allows viewing set protocol, camera ID, etc. Can control up to 32 PTZ cameras.
For more information on the Storm Chaser PTZ Package, contact one of our Design Engineers toll-free at 866-301-2288 or stop by our website at ruggedcams.com.