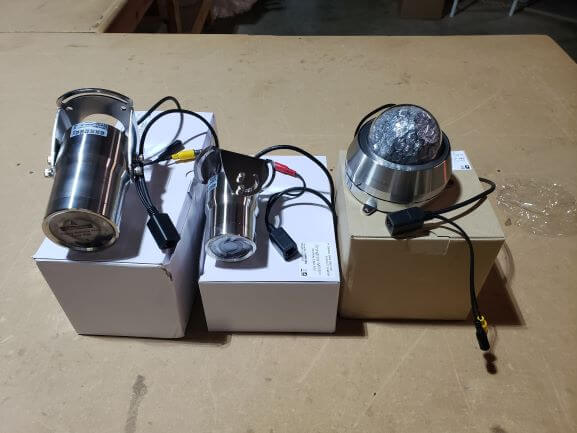 Internet Protocol camera systems have come a long way. Enviro Cams has a line of Stainless Steel IP Cameras, with one of them being explosion-proof. These are not your father's IP cameras. The SST IP camera can be used in any challenging environment from food processing plants, factories, chemical processing facilities, or marine vessels.
Here are the four IP SST cameras we have in stock and ready to ship. 
IP Explosion Proof Mini Stainless Steel Stronghold Camera: some features are IP66 weatherproof – indoor and outdoor, comprehensive temperature rate -40 degrees below to +140 degrees Fahrenheit, with a 2 Megapixel Resolution (1920 x 1820 max) 4mm fixed lens. An optically clear glass front is protecting the Lens. Housing and bracket are made from 304 stainless steel material—up to 100ft infrared illumination with intensity controller Smart IR's. 
Stronghold MPIRIP 3.6mm Lens: some features for the multi-purpose IP SST camera are Max. 30fps/Full HD (1920×1080) Resolution, 3.6mm megapixel fixed lens, and Infrared Lighting at night via 2 High Power Pearl LED Modules that can illuminate an area out to greater than 75 feet.
Stronghold MPIRIP-AF 2.8-12mm lens: features for this multi-purpose IP SST camera are a 2.8-12mm DC auto iris motorized megapixel lens that can be controlled thru the menu of the NVR, a SmartPhone, or even a Tablet.
Rugged Dome IP Stainless Steel Camera: made out of high-quality 316-grade Stainless Steel, motorized 2.8-12mm Auto-Iris Varifocal lenses, and are waterproof to IP68 standards.
All the above cameras are NON-Plug-&-Play Camera – must be configured.
For more information on any of our Stainless Steel IP Cameras, contact one of our Design Engineers toll-free at 866-301-2288 or stop by our website at ruggedcams.com. 
--