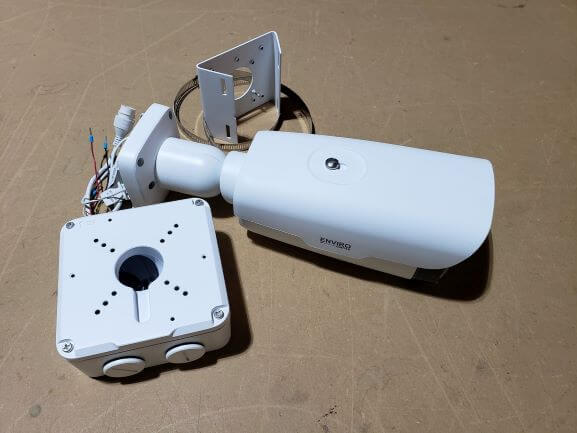 2 Megapixel Starlight Infrared Bullet Camera
The Outpost-10x IP bullet camera is packed full of features. It can be used for indoor or outdoor use. Let us take a look at some of those features.
An optically clear glass front protects the lens. The lens is a 4.7 to 47mm varifocal auto-focus megapixel with an electric zoom (10 times zoom). 
The Outpost-10x is a triple voltage enabled and can operate from either POE voltage 48V DC, 24V AC, or 12V DC. The camera can be installed up to 820ft from the NVR with power & video on POE voltage over standard Cat5e.  
The WDR (wide dynamic range) turned on; it will reduce the sun's glare or lighting behind a person or object, making it easy to see.
Two viewing options at night, one is with the infrared lamps on that can illuminate up to 320′ with intensity controlled smart IR's. The other is with Starlight illumination that if there is enough light in the area, the picture will likely still be in color mode. 
The Outpost-10X also has a whole host of Inputs and Outputs on its pigtail for extra functions – if needed. These additional functions are Audio Input, Audio Output, 24V AC Voltage, RS485 +/-, Alarm Input, Alarm Output.
To help with picture quality, DNR is one of the features you will find on this camera. Digital noise reduction 2D (2 dimensional) and 3D (3 dimensional) is a technique of removing image noise from a video signal by applying a digital comb filter.
To find out more features on this IP bullet camera, contact one of our Design Engineers toll-free at 866-264-0041 or stop by our website at ruggedcams.com.