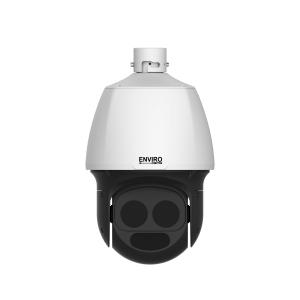 LAZ/IR Laser Infrared IP PTZ camera is an excellent long-distance camera but also a great close-in camera for surveillance. This IP PTZ is made for the night time outdoors, with the on-board laser infrared module that lasers light as far away as 1600 feet.
This incredible Laser Module also zooms and narrows in synch with the 33X Zoom Lens, so they work in tandem to make sure that the area you are trying to see, is illuminated – even if it is more than a ¼ mile away (or further).
The Laz/IR also has regular Infrared Lamps onboard for illuminating people or objects that are closer to the cameras as well, can throw light around the camera's location to almost 100 feet. But when you need to see farther – the laser will deliver. Need to see a gate more than a quarter of a mile away? No problem – the Laz/IR will illuminate it. Need to see down a fence line that stretches hundreds and hundreds of feet? Got it covered.
We have covered the long-range laser infrared and the short-range infrared LEDs; now the Starlight feature is where you turn off all the infrared lamps and laser and go stealth. The Starlight uses the small amount of light around to show you the scene in color.
Please take a look at the nighttime footage from this Laz/IR PTZ. This camera delivers the smoothest, best focus nighttime pictures than just about any other PTZ we've ever seen.
The Laz/IR is a 2 Megapixel with a 33x motorized zoom lens (4.5mm to 148.5mm) is intended to zoom down fence lines, all the way across a warehouse, out to a gate or perimeter fence, or to zoom in really close on processes or machinery. The view starts out at about 63 degrees wide, then zooms in to only 3.67 degrees wide.
This IP Pan Tilt Zoom camera has so many features we can not list all of them here. To get more information on this camera, please contact one of our Design Engineers toll-free 866-301-2288 or stop by our website at ruggedcams.com.