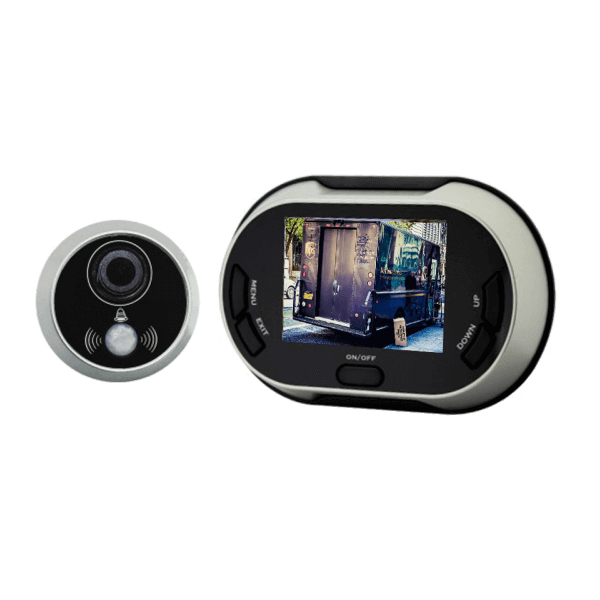 The Delivery DoorBell and Camera Viewer is a simple, quick, easy, and inexpensive way to have peace of mind when employees answer the delivery door. There are no cables to run for power and video, powered by 3 AA batteries (batteries not included) that will last for up to 1000 operating hours.
The 3.5″ color LCD display is easy to operate; the delivery person pushed the doorbell button. The doorbell chimes loudly inside to allow employees to know when someone is at the delivery door and see who it is before you let them in. The camera takes a picture each time the call button is pressed with the time and date-stamped for every visitor.
The built-in memory can take up to 100 time and date-stamped photos, and they can be reviewed by the up and down buttons or from the menu in the preview mode (scrolls through automatically). Other menu settings include brightness, contrast, color, language, date, time, and a "Do Not Disturb" that silences the bell and stops the other functions. During the day, you have a color picture; at night, the picture changes to black and white.
The inside monitor unit's dimensions 10in W x 4.05in H x 1.25in D, the outside camera unit is 2.36in D x .820in H. Fits most door that is 2.36in – 3.54in thick or 1.65in – 2.83in thick. The delivery doorbell and camera viewer fit most doors, but please check your door thickness before ordering.
For more information on the delivery doorbell and camera viewer, contact one of our Design Engineers toll-free at 866-301-2288 or stop by our website at ruggedcams.com.