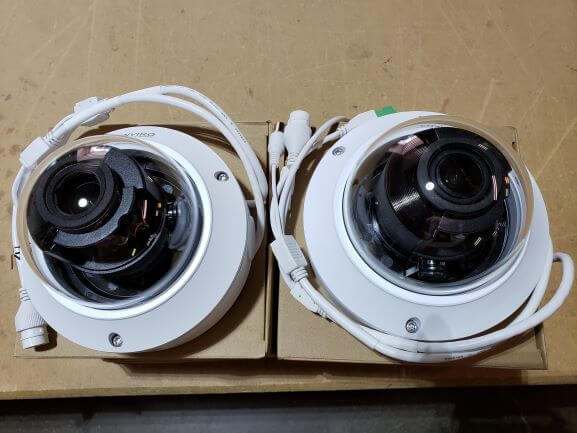 The Sentinel-IR and the Sentinel-IR 4K Moto-Dome are two IP dome cameras that fit the bill for that inside or outside. With loads of features, you can get a clean video; you will see whatever is going on in the area you focus these cameras on. 
Let's take a look at what both cameras have in common. 
You can run power and video over standard Cat5e up to 800ft when connected to any Enviro Cams NVR or POE Switch with extended distance on. 
The infrared lamps on both of these cameras are totally hidden, yet the powerful hidden lamps can throw IR light out as far as 100ft on a moonless night.  (Note: as with any infrared dome camera, a smaller space with something to bounce the infrared light off is the best place to use a dome camera outdoors. If you have an open field with nothing to reflect the light, use a bullet camera or other vital infrared source).
These cameras support smart analytics like people counting, face detection, line crossing, intrusion, motion, etc. Need audio? there are wires for input and output for audio to make it easy to talk to someone, also possible to add an external Mic (two-way audio if required). It also has 1 Alarm input cable and 1 Alarm output. This can facilitate many scenarios. For example: connect a door sensor, and turn on a light or siren (no voltage present, so an Interface or Relay will be needed).
Check out the lens; the Sentinel-IR has a 2 Megapixel Infrared Network Camera with a Motorized 2.8-12mm Auto-Focus Zoom Lens. The Sentinel-IR 4K has an 8 Megapixel Infrared Network Camera with a Motorized 2.8-12mm Auto-Focus Zoom Lens.
For more information on the Dome IP Cameras, contact one of our Design Engineers toll-free at 866-301-2288 or stop by our website at ruggedcams.com.