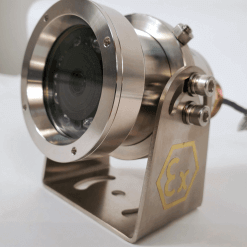 Do you work in an environment subject to an explosion, and you want to have a camera to monitor these areas? We have an explosion-proof Infrared IP camera that is ATEX certified for use in explosion sensitive areas.
Areas like offshore, onshore, food processing plants, oil & gas facilities, chemical sites, mobile transport (propane or other chemicals), and dusty environments.
The camera housing is 304 Stainless Steel material and is well-suited for strong corrosive environments, along with natural elements like humidity, high temperatures, and pressure. The window glass surface is coated with Nanotechnology for excellent light transmittance, non-stick for dust, oil, and water.
The lens is a 4mm 2 megapixel with a max resolution of 1920×1080, and 25 frames per second. At night you have a high-quality infrared lamp with a distance up to 100ft.
One unique feature of this explosion proof IR IP camera is low heat transmittance; this little camera utilizes internal air convection to dissipate heat effectively continually.
This camera is perfect for small spaces; the approximate diameter is 3 inches (main body), approximate 3-7/8 inches wide, including mounting bracket, from base to top 4-3/8 inches, and the overall length of 4-1/4 inches to back of the camera. The wiring harness is about 6 feet long and has a pre-installed RJ45 connector. There is also an adapter to allow the user to add a threaded conduit connection.
Installing the explosion-proof infrared IP camera system will give you the ability to monitor in real-time what is going on at your worksite, like the hard to reach places that have meters and gauges that monitor levels of chemicals or other conditions.
For more information on the features of the Explosion Proof Infrared IP Camera, contact one of our Design Engineers toll-free 866-301-2288 or stop by our website ruggedcams.com.