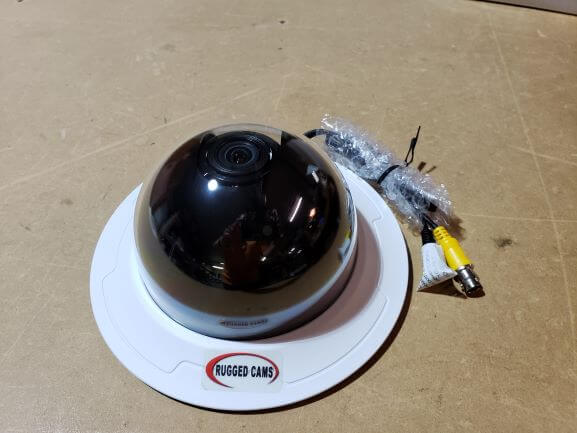 Weatherproof Infrared Dome Camera
Available in: Analog-960H / HD-SDI-1080p / TVI-1080p
The TVI Version has a Motorized Lens
Rugged Cams builds our affordable Viper Domes in many flavors. You can choose Analog-960H, HD-SDI-1080p, or TVI-1080p. So if you need a replacement camera, a camera for an older system, or a brand new Megapixel camera, we have the dome camera you are looking for.
The Viper is an Infrared Dome Camera that can illuminate an area as far away as 75′-90′ (on a moonless night). It also sports a 2.8-12mm Lens (the Analog and HD-SDI models are Varifocal, or manually adjusted lenses – and the TVI version has a Motorized Lens that can be adjusted remotely).
The Viper has an internal 3-Axis Mount that allows the camera to be turned in any direction and angle. This allows mounting of the dome on the ceiling, an angle, or even on a wall.
Our newest version of this venerable Dome Camera is the TVI 1080p version. This new technology allows you to call up the menu and make changes to the camera or even Zoom the Motorized Lens – all from your DVR, Smartphone, or even a Tablet.
All the Viper Models have the Smart IR function that gives clear, sharp vivid images even in complete darkness. It eliminates image IR saturation of up-close objects in the dark by intelligently controlling the IR sensitivity.
To get more information on these dome cameras, contact one of our Design Engineers toll-free 866-301-2288 or stop by our website at ruggedcams.com.