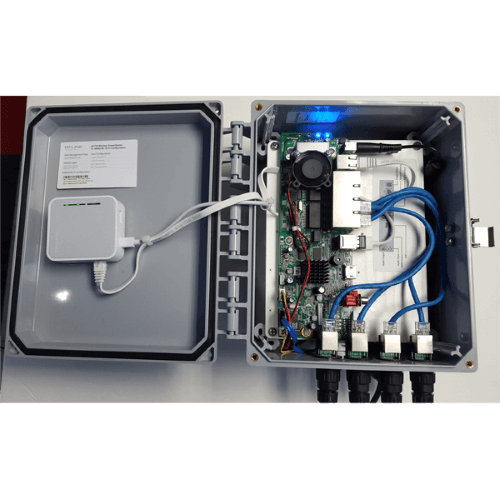 The Outdoor IP Network Video Recorder that no one will ever think of is a full-featured 8 Channel IP system hidden inside a small 10″ x 8″ box. That can be used at sites like Subdivision Entrances, Construction Sites, Tour Boats, Oil & Gas Well Sites, and countless other remote locations.
The RV5 Gen II is a powerful processor and can handle more video bandwidth, which means no delays on the live view with a more consistent frame rate on the recorded video.
The IP NVR is equipped with H.265+, which is 1/4th the file size of H.265. This means the two terabytes solid-state drive recording all the cameras equals a 4TB drive on a regular H.265 system and an 8TB drive on a standard H.264 system.
The Outdoor IP Network Video Recorder will work with almost any camera brand (up to 8 Megapixels each) but is Plug-N-Play with our cameras. There is also a 4K HDMI output and USB mouse connection if you need to access the system directly.
The system has a GL Mango Wifi box connected that gives the operator the ability to control the program and review footage from any Phone, Tablet within approximately 200feet. The GL Mango has a slot for a 4G USB Modem that allows for cellular service so that you can control the system from anywhere in the world. (See warranty disclaimer at ruggedcams.com about this device)
For more information on the Outdoor IP NVR System, contact one of our Design Engineers toll-free at 866-301-2288 or stop by our website at ruggedcams.com.