When you can't decide between a bullet style camera or a PTZ
GET BOTH!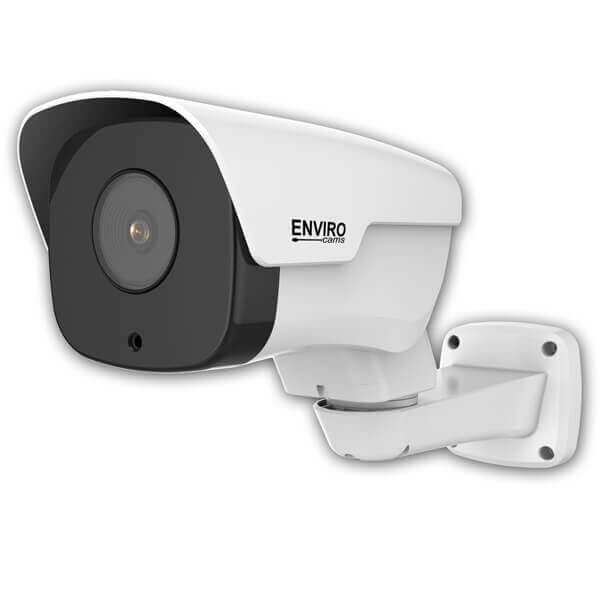 i-Patrol PTZ Bullet Camera has the

BEST OF BOTH WORLDS
Our security cameras do not look like an owl, but we have an IP Bullet Camera that is actually a Pan Tilt Zoom camera. Meet the i-Patrol PTZ Bullet Camera, which has all the features of a pan tilt zoom camera but is a bullet camera with a bullet camera price to go with it. 
Going the Distance
A feature only found with EnviroCams is the ability to have video and power up to 800 feet away when connected to our NVR and switch. 
Go wireless with one of RuggedCams wireless packages. 
Lens and Infrared 
The i-Patrol PTZ Bullet Camera has a 3-6mm motorized zoom lens, the 2x the zoom with 16x digital zoom. The Smart Infrared LED's have a distance up to 325 feet. The day-night operation comes with an IR cut filter designed to block or deliver the infrared to provide an accurate color reproduction high-quality image day and night. 
Programmable Preset positions and Patrol tours
The i-Patrol PTZ Bullet Camera can move; it will turn 250 degrees and go 50 degrees up and 50 degrees down for 100 degrees. With this feature, the i-Patrol PTZ Bullet Camera works excellent on corners and down hallways. The pan speed is up to 30 degrees per second, and the tilt speed is 10 degrees per second. Let the camera do the work for you, up to 16 patrols and along with 32 preset positions per patrol. 
Intelligent Analytics
The i-Patrol PTZ Camera does more than a video; this camera is packed with intelligent analytics. When these features are turned on, the camera will alert you of things that happen around your property. Here are a few features: intrusion and motion detection or line crossing will let you know that someone is not supposed to be in an area. A de-focus or camera tampering feature will let you know if something is put in front of the camera or even the lens has been spray with something. Scene Change is another Identification feature. This can alert you if something in the scene should change, such as missing a valuable laptop or a high-value item is no longer on the shelf. 
Alarm System and Audio
The i-Patrol PTZ Camera has the feature to add an alarm with two input connections and one alarm output connection. For example, connect a door sensor and turn on a light or siren, so you know when someone shows up at your gate, the alarm will sound, and if you hook up lights and a siren, that will sound. So not only has an alarm going off for when you have a visitor, but you can also talk to that person and tell them that you are on your way to the gate because the IP PTZ is also equipped with audio input wires and audio output wires, making it possible to add an external mic or a two-way speaker. 
Built-in recording back-up
The i-Patrol PTZ Camera has a built-in 32Gb of Internal Memory (eMMC type), works just like a removable SD Card. You can use it to record when the camera is in stand-alone mode (powered via 12V DC), or it can be used as Emergency recording when POE Power is interrupted (then upon re-connection, it will automatically upload the recordings to the NVR).
Your Choice of Control
The i-PatrolPTZ Bullet Camera has many features to control, and you have many ways to control those features. The first choice and most popular is thru the app on your cell phone, tablet, or personal computer. The second choice is the NVR, and the third choice is with the IP PTZ Controller. You are not limited to one way to control your camera; you can use all the methods above. 
RuggedCams Warranty and Tech Support
The i-Patrol PTZ Bullet Camera comes with a 3-year warranty, with unlimited tech support for life. We also have a tech-support page on our website with lots of how-to videos. If not sure of the video quality of the cameras, we also have video from here on our property; in most cases, it shows you day and night video.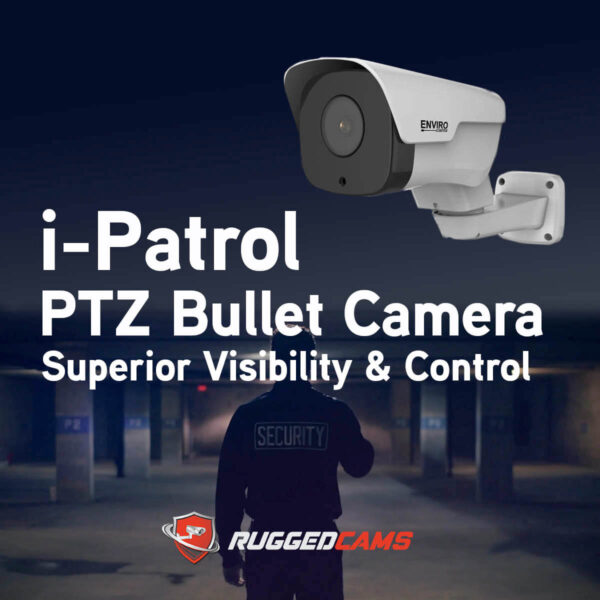 About us and how to get in touch
We know that choosing the right camera for your business can be daunting. There are so many options and so many things to consider. That's why we are here! We love to help our customers choose only the best and only the essentials needed for your application. We won't up-sale you cameras you don't need. We offer you a completely free system design that outlines everything you need. For more information on the IP PTZ camera and start your free system design, contact one of our Design Engineers toll-free at 866-301-2288.