The new version of our camera is now a hybrid and can be used as a TVI or CVBS (Analog 960H) just by selecting the correct connector, which is marked as appropriately. And the Vanguard – HD is still available.
The Vanguard Series Infrared Outdoor Cameras is another new tough security camera from Rugged Cams. The Vanguard is not only weatherproof, but waterproof and dust proof as well, and carries a sealed rating of IP67.
The Vanguard has a built-in Fan & Heater that allows it to operate at incredibly low temperatures. In fact, it is rated for -40°F below zero and the fan cools the camera to at least +158F above. Not many cameras can match this incredible temperature range.
The Vanguard Infrared Outdoor Camera uses the latest Technology,
The HD-TVI Model – uses theSony 1/2.8″ 2 Megapixel CMOSTechnology, which uses the HD-TVI camera chipset to output an incredible 1080p Resolution. This 2.2 Megapixel resolution
The HD-SDi Model – uses the latest Panasonic CMOS Technology, which uses a HD-SDI chipset to output an incredible 1080p Video with 2.2 Megapixel resolution.
The Analog 960H Model –  uses the latest SONY 960H Technology, which uses a 700 TV lines camera chipset to output an incredible 960 Horizontal lines wide picture. This is very near Megapixel resolution
The Vanguard is also using Rugged Cams' new "Easy Pro Install System", which attaches a swing-out Junction Box to the base of the mount. Now anyone can get professional results and really quick installations using this system. You can mount on any surface, in any direction or orientation, from the ceiling, wall or table type mount, and even directly to any indoor or outdoor double gang switch box. The swing-out feature makes working on and fine tuning the camera super easy since you don't have to hold onto the camera at the same time. Truly revolutionary.
Before we get to some of the other innovations of the Vanguard, here is a short list of the best features.
Top Ten Features of the Vanguard-700 Infrared Outdoor Camera:
Completely Weatherproof & Waterproof and is rated to IP67 standards
Built-in Swing-out Junction Box with American 3/4″ Conduit fittings
Mounts on the Wall, Ceiling, Pole or any flat surface such as parapet walls or atop fences, etc.
Rated to -40° below zero and +158° above (-40° F to +158° F)
Heater and Fan built-in
30 Wide angle (30° spread) Variable Power Infrared Lamps with Smart IR Technology − 100' Outdoor & 165' Indoor Range
3.5mm-16mm Auto-Iris Varifocal Lens − with Infrared Cut Filter for True Day/Night Operation
Smart 3D-DNR, WDR, plus, the all-new F-DNR which is Enhanced Digital Noise Reduction with the ability to help cut through Fog, Dust, etc
In our quest to design the best Infrared Outdoor Cameras with the latest technology, Rugged Cams also makes them the toughest in the industry. The Vanguard Infrared Outdoor Camera is no exception.
Harsh environments, ice & snow, heat & sun pose no problems for The Vanguard. The waterproof aluminum case is sealed to IP67 standards with a built-in Anti-Fog fan and a robust Heater with an automatic thermostat. That's why The Vanguard is rated to -40° below zero and +158° above. Truly Rugged.
Rugged Cams is known for ramping up the Tough factor and packing in the features, and this Camera carries some great new design innovations:
Gasketed Drop Down Access Door that opens a compartment for easy Lens Adjustment
Access Door also has Menu navigation Buttons, a Video Output connection, Infrared Sensitivity switches, Infrared On/Off Switch and an Infrared Power Gain Potentiometer − all handy and at your fingertips
Smart Infrared Technology − varies the power depending on how close the subject is − no more white-out effect
Sun Shield is adjustable and helps provide cooling on the hottest days and keeps ice off of the camera body on the coldest days
Dual Voltage Power Choice − 12V DC (10-30 volts) and 24V AC (10-28 volts) for HD-SDI & Analog cameras  –  Hybrid Versions 12V only
The Vanguard delivers a lot of performance for a low price. Rugged Cams cameras last!
Installation / Technical Information
Power Consumption
650mA (Infrareds on)
Maximum Distance for 12v DC over standard 18/2 power wire for the Vanguard 700 Camera is 230′ feet
24v AC over 18/2 power wire 1000′
Vanguard HD-TVI - *requires HD-TVI compatible DVR*
Download Specifications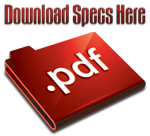 Image Processor
Sony 1/2.8″ 2 Megapixel CMOS
Total pixels
2000(H) x 1121(V)
Effective Pixels
1984(H) x 1105(V)
H/V Resolution
1080p
min Illumination (F1.2)
Color: 1.0 Lux(50 IRE) / 0.02 Lux(15 IRE)
B&W: 0.08 Lux(50 IRE) / 0.018 Lux(15 IRE)
S/N Ratio
more than 50db (AGC off)
Frame Rate
30fps Full HD
OSD
Multi-Language (English, Chinese, Japanese, Korean)
Day & Night
Auto / Color / B&W / EXTERN
ATW
1800 – 10500K
AGC
Off / 0 – 15
High Speed Shutter
1/30(1/25)-1/30Ksec
WDR
Off / On
D-WDR
Off / On
BLC
Off / On (size, position)
HLC
Level Setting (0 – 20), Color
AGC
Level Setting (0 – 20): Max 42db
D-Zoom
1.0x – 8.0x
Camera ID
Off / On (Letters A – Z, Numerals 0 -9, Symbols)
White Balance
Auto / Autoext / Push / Manual
DNR
2D+3DNR, OFF / LOW / MIDDLE / HIGH
Motion Detection
Off/On
Privacy mask
16 Masks(ON/OFF, Color, Position )
Sense-Up
x2, x4, x8, x16, x32
De-Fog
Auto/Manual
Operating Temperature
–40°F~160°F
Storage Temperature
–4°F~140°F
Power Consumption
AC Max: .490mA / DC MAX: .620mA
IR LED
Round 40pcs (30 deg)
Lens
3.5 – 16mm Motorized Megapixel Lens
Dimensions
3.86(w) x 3.50(H) x 5.9(L)
Weight
2.5 Pounds
Vanguard Analog 960H
Vanguard 700 Specifications
TV system
NTSC
Total pixels
1020(H) x 508(V)
Effective pixels
976(H) x 494(V)
Frequency
15.734 [KHz] (H) / 59.94 [Hz] (V)
ESC
Auto / FLK / Manual (1/60 ~ 100,000 sec)
DSP
NEXTCHIP HAWK-II
Sensor
1/3 inch SONY 960H EXVIEW HAD CCD II (icx672aka)
Resolution
700 TV lines
Scanning system
2:1 Interlace
Sync
Internal
S/N Ratio (Y signal)
More than 52 dB (AGC Off)
Video output
CVBS: 1.0Vp-p / 75Ω composite
Min.Illumination
0.4Lux at F1.2 (color) / 0.0001Lux (BW for sense up X256) / 0Lux (IR On)
White balance
ATW / AWB / AWC→SET / Manual / INDOOR / OUTDOOR
BLC
BLC / HSBLC / Off
Gain control
Low / Middle / High / Off
Defect
Compensation dead pixel of the CCD Sensor
Smart 3DNR
On / Off (3D)
Day & Night
Color / Auto / BW / EXT
Sens-up
AUTO(x2~x256) / Off
DIS (Digital Image Stabilizer)
On / Off
D-Zoom
x1.0~x32
Rrivacy
On / Off (Programmable 8 zones)
Motion detection
On / Off (Programmable 4 zones)
F-DNR (Defog)
Auto / Manual / Off
D-WDR (Digital Wide Dynamic Range)
Low-Level / High-Level
Smart IR
On / Off
Lens Shading
On / Off
Operating temp./hum.
-40°F~+158°F / 30~80 RH
Storage temp./hum.
-4°F~+140°F / 20~90 RH
Power
Dual Voltage DC 10v-30v / AC 10v – 28V
Power Consumption
IR on – DC: Max. 8W, AC: Max. 10W
IR- OffDC: Max. 650mA, AC: Max. 400mA
Lens
3.5-16mm Manual Varifocal
Dimension
3.85″(W) x 3.48″(H) x 5.90″ (L)
Weight
5.5 lbs
IR LED's
Round 40 pcs (30 Deg)
Accessory
Junction Box Bracket included
Vanguard HD-SDI - *requires HD-SDi compatible DVR*
TV System
NTSC (50Hz) / PAL (60Hz)
Image Device
1/3″ Panasonic CMOS
Scanning System
Progressive Scan
Total Pixels
2010(H) x 1108(V) : 2 2Mega pixel
Effective Pixels
1944(H) x 1092(V) : 2.1Mega pixel
Lens
3.5-16mm Mega Pixel Lens
Camera System
Day & Night System
ICR (Mechanism Filter Mountable)
Min. Illumination
0.1 lux @ F1.4, 30IRE
SDI FORMAT
1080P/ 720P
SDI FPS
30/ 25@1080p, 60/ 50@720p
CVBS SCALE
FULL/ CUT
CVBS OUT
OFF/ ON
Sync System
Internal
Electronic Shutter
60Hz : 1/30~1/30,000sec, 50Hz : 1/25~1/30,000sec
Output 1
1 HD-SDI
Video
Output 2
CVBS (NTSC, PAL) without WDR
Resolution& frame rate
Digital: 1080@30p/25p, 720@60p/50p Analog: 700TVL
On Screen Display
Built-in
OSD
Language
English
BRIGHTNESS
0 ~ 20
AGC
0 ~ 20
Exposure
SHUTTER MODE
AUTO/MANUAL
SHUTTER SPEED
1/30(25), 60(50), 120(100), 250, 700, 1K, 1.6K, 5K, 7K, 10K, 30K
SEN-UP
OFF/ X2/ X3/ X4
White
MODE
AUTO/ PUSH LOCK/ MANUAL
Balance
MANUAL MODE
COLOR TEMP./ RED GAIN/ BLUE GAIN
MODE
OFF/ WDR/ BLC/ ACE
WDR / BLC / ACE
BLC POS X, Y
0 ~ 20
BLC SIZE X, Y
0 ~ 20
DNS
OFF/ LOW/ MIDDLE/ HIGH
MODE
AUTO/ EXT/ COLOR/ B&W
DWELL TIME
1 ~ 10sec
Day & Night
D ->N LEVEL
0 ~ 20
N ->D LEVEL
0 ~ 20
Sharpness
0 ~ 20
Color Level
0 ~ 20
Mirror
OFF/ ON
Image
Flip
OFF/ ON
LENS SHADING
OFF/ ON
Digital-ZOOM
1 ~ 40X
COMM ADJUST
CAM ID/ BAUD RATE/ 485 TERM.
PRIVACY
OFF/ ON (position, size, color adjustable)
Special
HLM
OFF/ ON (level, color adjustable)
SMART IR
On /Off
MOTION
OFF/ ON(sensitivity adjustable)
OPERATING TEMP./HUM.
Heater type -40F~+122F / 30 RH
STORAGE TEMP./HUM.
-4f~+140F / 20~90 RH
POWER
Dual Voltage DC:10V~30V, AC:10V~28V
Power &
Environmental
POWER CONSUMPTION
IR On: DC: Max. 7W, AC: Max. 9W
IR Off: DC: Max. 500mA, AC: Max. 350mA
DIMENSION
3.85″ (W) x 3.84″(H) x 5.86 (L)
WEIGHT
2.2 lbs
IP Rating
IP67
Models With Infrared
IR LED
Round 40pcs (30deg)