We have totally redesigned our famous Mobile camera with better resolution, better stainless steel body and a better waterproof design.
The new Stronghold-MP (Multi-Purpose) camera can be used as a backup camera on vehicles and vessels, and comes with a detachable Menu keypad that allows you to customize almost any setting and feature for optimum performance – and also allows you to mirror image or even flip the picture upside down if needed.
We have jacked the resolution up to an incredible 700 lines (960H – SONY Super HAD II – Low Illumination model). Try to find another Mobile camera that has anywhere near this resolution.
This Mobile Camera is perfectly designed for a wide range of automotive and industrial applications such as construction vehicles, truck and marine industry. The high grade 316 Stainless steel that we use to make this camera, is not only salt and rust resistant, but is also anti germ, so it can be safely used in the food processing industry as well.
The 2.2mm lens gives you a wide 170 degree field of view, and the small compact size will fit nearly anywhere you need it to go.
Pair this camera up with any of our Mobile Monitors for a ready-to-use Mobile viewing solution.
Installation / Technical Information
Power Consumption
0.1ampMaximum Distance over standard 18/2 power wire is 700′ feet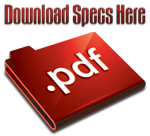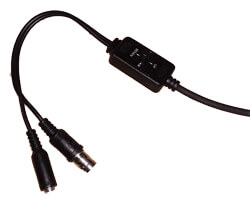 Camera Video/Power Connection
Stronghold – MP
| | |
| --- | --- |
| Image Sensor | 1/3″ Sony Super HAD II Color CCD 960H |
| Effective Pixels | 976(H) x 494(V) |
| Scanning Frequency | 15.734 KHz (H) 59.94Hz (V) |
| Horizontal Resolution | 700TVL |
| Scanning System | 2:1 Interlace |
| S/N Ratio | more than 52db (AGC off) |
| Min. Sensitivity | 0.1 Lux at F: 1.2, 0.001 Lux at SENS-UP on |
| Gama Correction | .045 approx. |
| Gain Control | Automatic |
| Video Output | Composite Video 1.0Vp-p/75Ω |
| Lens | Fixed 2.2mm lens (170°) |
| Power Consumption | 1.0 Watt |
| Operating Temp. | 0°F – 125 °F |
| Dimensions | 1.93″ Diameter x 4.50 Length |
| Weight | 1.46 lbs. |