Night Scout-TVI
Infrared HD PTZ
The New Night Scout HD Infrared PTZ Camera from Rugged Cams is a 2 Megapixel PTZ Camera that delivers flawless daytime and nightime video in 1080p. We make the side panels out of Titanium, and this makes this awesome PTZ one tough Camera!
The amazing thing about this TVI PTZ, is that you can totally control it through the normal coax – NO RS485 Control wires needed! This is truly a breakthrough, and saves you money for the extra wiring and a lot of labor. You get total control through your DVR, from your phone or tablet, or any PC – anywhere in the world. Truly a game changer!
The Night Scout is equipped with a Panasonic PTZ Module that has a 30X Optical Zoom Lens and a 12X Digital Zoom as well (4.3mm to 129mm – which gives you a picture that starts out almost 59 degrees wide, and can zoom in to slightly over 2 degrees wide).
The Night Scout has Panasonic's version of WDR (Wide Dynamic Range), and can be turned on or off via the Menu. This will come in handy if you have the sun behind your subject or blinding reflections in your picture.
This PTZ is a great way to light up the night. The large LED Infrared Lamps will shine out to as far as 820 feet on a moonless night, AND – The intensity is controlled by how far you zoom.
It also has Image Stabilization, which is also controlled by an On/Off toggle in the Menu. So if your mount is a little shaky or the winds are high, this setting helps when you are zoomed in tight.
This awesome HD PTZ is operated via 24Volt AC, and has a Fan and Heater to control the temperature during any weather. The Fan runs all the time, but the Heater comes on when the temperature drops below 50 degrees F. (Wide Temperature Tolerance – 22 degrees below zero to 122 above).
The Night Scout has a whole range of features, including:
209 settable Preset positions
8 Different Patterns that can be programmed (each pattern can have a total of 768 commands, or 5 minutes total per pattern
10 Swings
8 Groups (MAX. 40 Actions with The Combination of Preset,
Pattern and Swing)
8 Different Time/Date schedules
Backup Battery holds time/date and all commands (approx. 2 weeks without power)
2 Output relays (can have some voltage present – MAX. Load DC24V 1A / AC125V 0.5A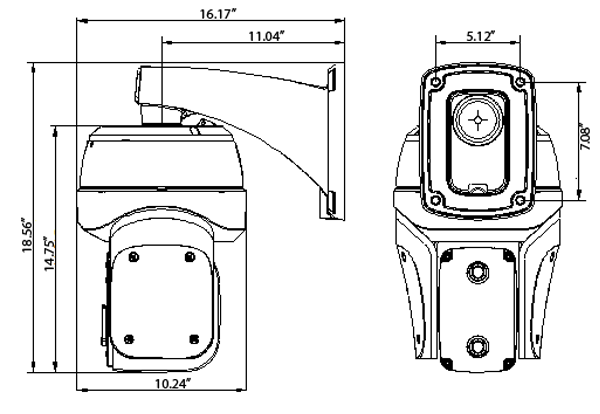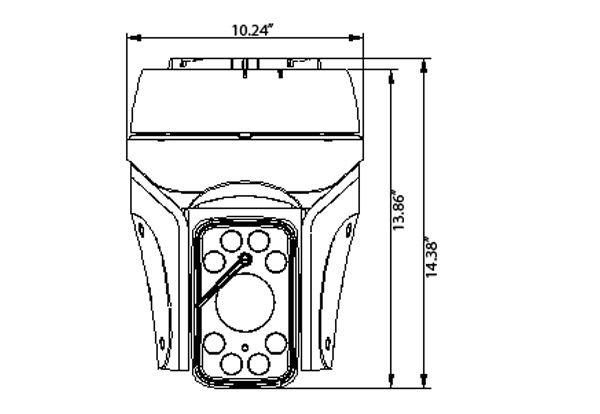 Night Scout TVI PTZ Specifications
CAMERA PART
Image Sensor
1/3" Panasonic CMOS Sensor
Total Pixels
2,000K pixels
Zoom
´30 Optical Zoom, ´12 Digital Zoom
Video Signal-to-Noise
more than 50dB
Forcal Length
F1.6~4.7, f=4.3~129.0mm
Angle of View (H)
58.9°(Wide)~2.11°(Tele)
Minimum Illuminance
0.5 Lux @ DSS OFF / 0.125 Lux @ DSS ON (Color)

0 Lux (IR Mode)

Day & Night
Auto / Day / Night(ICR)
Focus
Auto / Manual / SemiAuto
AE Mode
Auto / Iris / Shutter / Manual
White Balance
Auto / Indoor / Outdoor / Manual(Red, Blue Gain Adjustable)
BLC
ON / OFF
WDR
ON / OFF
Defog
ON / OFF
Aperture
Adjustable
NR
AUTO / OFF / 1~3 Level
Image Stabilization
ON / OFF
Privacy Zone
8 Masks, Spherical Coordinate
MECHANISM PART
Movement Range
Pan
360°(Endless)
Tilt
-20° ~ 90°
Speed
Preset
240°/sec.
Jog
0.1 ~ 240°/sec. (Proportional to Zoom)
Swing
1~ 90°/sec.
Preset
209 Presets (Label, Independent Camera Parameter Setting)
Pattern
8 Patterns [768 Commands(Approx. 5 Minute) / Pattern]
Swing
10 Swings
Group
8 Groups (MAX. 40 Actions with The Combination of Preset, Pattern and Swing)
Schedule
8 Schedules
Other Pan/Tilt Functions
Auto Flip, Auto Parking, Power Up Action and etc.
Video Output
HD Video
HD-TVI

1920´1080p30, 1280´720p60, 1280´720p30 (NTSC)

Analog
1Vp-p, Disables when WDR is ON
Real Time Clock
Yes, RTC battery backup time : 2 weeks
Communication
RS-485
Protocol
Pelco-D, Pelco-P, Hikvision-C Selectable
OSD
4 Languages (English/Polish/French/Italian)

Menu / Time / PTZ information etc, Password protection

Sensor Input
3 Inputs, Photo-Coupler Type
Alarm Outputs
2 Outputs, Relay Output, MAX. Load DC24V 1A / AC125V 0.5A
IR LED
Wave Length
850nm
Distance
250 meters
Brightness
Auto (Proportional to Zoom), Manual (Off~127)
Illumination Sensor
CDS Sensor
Fan / Heater
Fan always ON, Heater runs under internal temperature 10°C
Wiper
Optional
Operation Temperature
-30°C ~ 50°C
Waterproof / IK Code
IP 66 / IK 10
Dimension
Main Body : Æ260 ´ 365 mm
Weight
Approx 7.6 Kg
Rated Power
AC 24V / 3.0A