One of the biggest improvements is that we have changed from CMOS camera boards back to true CCD cameras from SONY. Now the clarity of the picture has improved, the colors are accurate and the reliability issues that plague analog CMOS cameras has gone away.
The On-Screen-Display (OSD) is a fantastic improvement because now you get all the features and program-ability that the high-end cameras normally have – at a fraction of the price. The On-Screen-Display allows you to change almost any parameter and modify any feature or disable it entirely – all using a joystick found at the end of the cable (which is extra long to insure you can penetrate any wall thickness so that you have access to the joystick and connectors).
Here are just a few of the OSD Menu items that are programmable: Language (English, Korean, Chinese, German, French, Spanish, Portuguese, Russian), Shutter Speed, White Balance, Auto Gain Control, , Backlight types such as Highlight Masking, Mirror function (in case you are using it as a backup camera), Brightness, Contrast, Sharpness, Hue, Gain, Motion Detection, privacy blocking, Noise Reduction, Camera ID and even a Reset function to revert back to our Factory Defaults we have set.
The i700 has 24 Infrared LED's that will project infrared lighting out to as much as 50-60′ on a dark night. The Day/Night feature will turn on automatically at dusk and off at dawn via the built-in daylight sensor. So this camera gives you true color and excellent clarity during the daytime, and turns to a black & white picture with infrared lighting at night. AND – separate glass panes on the front of the camera helps to eliminate any glow from the Infrared LED's from being seen in the picture.
Electrostatic Discharge (ESD) Protection – protects against shorts and stray voltage spikes from unreliable power supplies or nearby lightning strikes (up to 5000 Volts).
(And It Also Carries Our Exclusive 2-Year Warranty)
[Rich_Web_Video id="1″]
i700 960H Analog
| | |
| --- | --- |
| Optical Technology Base | Sony 1/3" Effio E CCD High Resolution |
| Optical Technology | "NTSC: 510(H) x 492(V) PAL: 500 (H) x 582(V)" |
| Horizontal Resolution | 700 Lines |
| Sync System | Internal |
| Sync System | "NTSC: 59.94Hz PAL: 50Hz " |
| Scanning System | 2:1 Interface |
| Mini Illumination | 0 LUX (w/24 LED's IR on) |
| Synchronization | Internal |
| S/N Ratio | >48db |
| Electronic Shutter | up to 1/100,000sec |
| White Balance | ATW |
| Lens | 3.6mm lens |
| Gamma Correction | 0.45 |
| Auto Gain Control | Auto |
| Video Output | 1Vp-p, 75 ohms |
| Operation Temperature | 14ºF to 122ºF |
| Storage Temperature | 14ºF to 122ºF |
| Power | DC12V |
| Power Consumption | 400mA |
Installation / Technical Information
Power Consumption
240mA (Infrareds on)
Maximum Distance for 12v DC over standard 18/2 power wire for the i700 Camera is 390′ feet
Camera Dimensions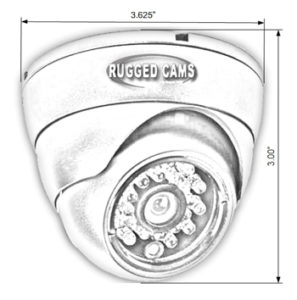 Installation / Technical Information
Power Consumption
240mA (Infrareds on)
Maximum Distance for 12v DC over standard 18/2 power wire for the i700 Camera is 390′ feet