Rugged Cams NVR's (Network Video Recorders) start at our 4 and 8 Channel Units, which are referred to as the "104" and "108" series. The first number refers to how many hard drives the unit can hold, and the last number denotes how many channels, or cameras they will accommodate.
All Rugged Cams NVR's feature Automatic Plug-N-Play operation – simply plug the camera in, and you get video.It's really that simple.
Rugged Cams makes the best Network Video Recorders you will find. We make sure that you will enjoy trouble-free operation at all times, and we promise that you will not have any of the problems that commonly plague other Recorders. We test constantly, update our firmware often, and provide free software updates to our customers – all with the touch of a button. Other Manufacturer's make it tough to know when updates are available or exactly how to accomplish an update at all.Enviro Cams wants you to have the latest and greatest at all times, and since it as easy as a simple button push – you won't need any help doing it.
See NVR Smart Features Here

Our NVR's have all of the features and operations that the best NVR's have, including Full Time Recording, Motion-Based Recording, Alarm or Event Recording and Time or Schedule-Based Recording, etc.
Rugged Cams 104 and 108 Series NVR's also have the following added features:
Three Year Warranty – on every NVR we offer – including the hard drives.
UL LIsted (Required by many States and Cities, yet only found in a select few Brands)
ONVIF Conformance (3rd Party Cameras and Most VMS Platforms are supported and compatible – but will not be Extended Distance as with Enviro Cams)
Plug-N-Play Automatic Connections(Put an end to setting each IP address – Let Enviro Cams do it automatically!)
Extended Distance for Audio/Video/Power(Currently at least 820 Feet Over Cat5/6 – Soon to be 1000 Feet)
Supports H.264 / H.265 and our New H.265+ Video Formats (Enviro Cams new H.265+ Can Save up to 95% Bandwidth)
See H.265+ Info Here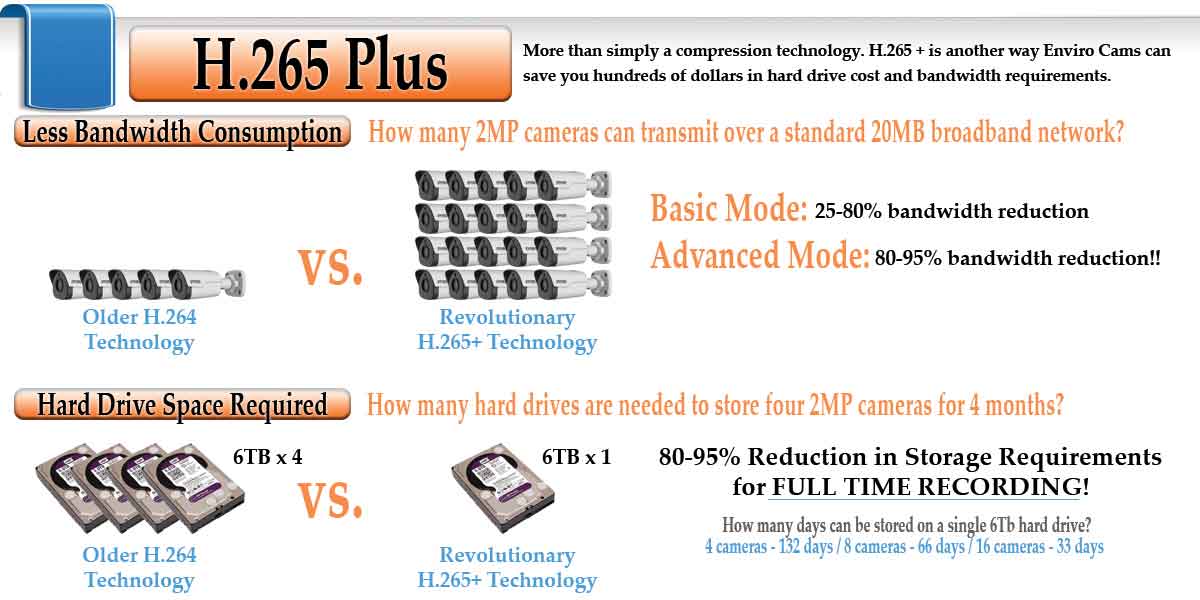 Built-In POE for all Channels(4 & 8 Channels)
Audio Built-In for each Channel(All through the normal RJ45 Network connection)
Real-Time Display/Recording/Playback – up to 8 Megapixel Resolution
4K HDMI Support (or lower settings) – VGA also provided (1080p)
Supports Up To 8TB Hard Drive
Alarm Sensor Inputs & Relay Outputs(see Back Panel picture)
See Alarm Relay Info Here

Remote Viewing and Control of everything via VMS (Desktop), and Smart Device App (Droid/iPhone/Tablets) – all Remote Software provided Free
One Button Firmware Upgrade
Encrypted and Enhanced Protection against Cyber Attack
Unlimited Tech Support for the Life of the System (24 Hour Video Support Library and weekday Phone Support available)
Every Rugged Cams NVR includes a Free Wireless Mouse for easy and immediate navigation and camera control.
We invite you to watch our Videos about how to accomplish common tasks with our NVR's (below, and on our Tech Support page). We make it simple and easy. In fact, most settings are pre-configured so that your NVR will operate how you need it to – right out of the box.
See h.265+ Deep Compression Explained Here