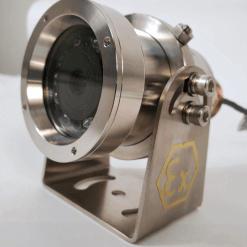 An explosive environment like: oil and gas tankers, chemical processing plants, hospital operating theaters, aircraft refueling, and hangers, coal mines or oil refineries, sewage treatment plants, grain handling, sugar refineries, and printing industry, you need an explosion-proof IR IP camera because, in these areas, they could contain flammable gas.
New to the series of IP cameras is the EXP-Mini -ATEX Certified Explosion Proof Infrared IP Camera. We developed this camera to be used in all explosive environment; this Ex-Proof Camera is rated: ATEX, II 2G Ex d IIC T6 Gb, and II 2D Ex tb IIIC IP68 T80℃ Db.

This Ex-Proof Camera comes with an approximately 6 ft. lead and a pre-installed RJ45 Connector. There is also an adapter to allow the user to add threaded conduit connections. The main body of the camera is 3 inches when including the mounting screws; it is approximately 3-7/8 inches, from the base to the top approximately 4-3/8 inches. The length is 4-1/4 inches to the back of the camera (approx. 5-1/4″ with reducer fitting included).
Some of the unique features the IP Stainless Steel Explosion Proof Camera has is a 4mm lens in 1920 x 1080 resolution. High-quality IR lamps, with a distance up to 100feet. Window glass surface coated with nano technology for excellent light transmittance, non-stick for dust, oil, and water. Low power consumption and low heat transmittance. Utilizes internal air convection to dissipate heat effectively continually — special anti-shock engineering technology.
For more information on the IP explosion-proof camera, contact one of our Design Engineers toll-free 866-301-2288 or stop by our website at ruggedcams.com.