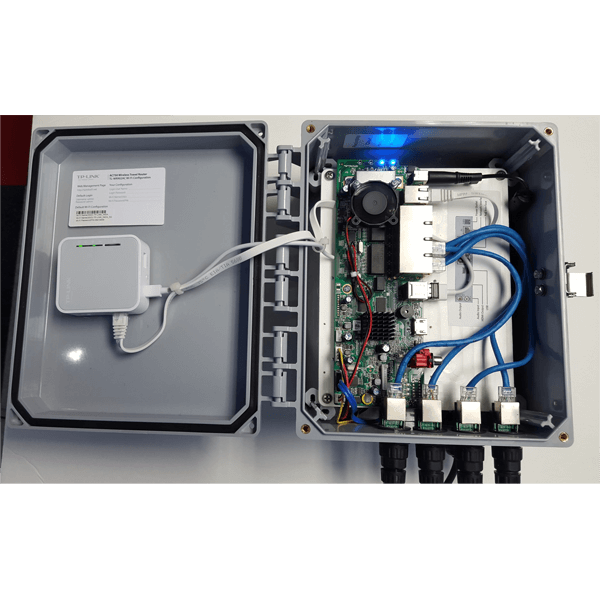 Outdoor surveillance is more important than ever, and there are places that you need to have an Outdoor IP Network Video Recorder, and for those places, we have the RuggedVision-5 an eight-channel outdoor IP NVR.
Some of the unique features of this outdoor unit are the NEMA-4 waterproof and weatherproof box that we install all the working parts in. This IP -based NVR is equipped with H.265+, which is 1/4th the file sizes of H.265. Therefore, the 1 Terabyte Solid State Drive that is recording all the cameras is equal to a 4Tb drive on a regular H.265 system, and an 8Tb drive on a standard H.264 system. The system has a TP-Link Wifi box connected that gives the operator the ability to control, program, and review footage from any Phone, Tablet, or Laptop that is within approximately 200 Feet. In addition, the TP-Link has a slot for a 4G USB Modem that allows for cellular service so that you can control the system from anywhere in the world.
The Outdoor IP Network Video Recorder is Onvif compliant and will work with almost any brand of cameras. (up to 8 Megapixels each). There is also a 4K HDMI output, as well as USB Mouse connection if you ever need to access the system directly.
This unique first of its kind IP system comes with a 3 Year Warranty and full Tech Support for Life.
Here are some places that have this box in use already subdivision entrances, construction site, tour boats, and oil & gas well sites.
To get more information on this Outdoor IP NVR system contact one of our Design Engineers here at RuggedCams toll-free 866-301-2288 or stop by our website.