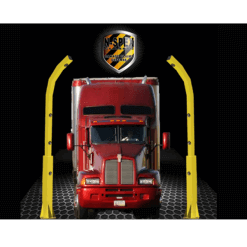 Eight Hi-Resolution HD-TVI or HD-IP cameras make up the vehicle condition inspection and documentation system, also know as the N-Spex Mega Trux Stix. This unique unit views and documents the front, back, sides, and top of all Trucks, Trailers, Rail Cars, etc. Truck / Trailer / Cargo / Container / Rail Car Inspection Condition & Documentation System N-SPEX TRUX STIX.
The HD-TVI cameras are hi-resolution cameras in 1080p with each camera zoom function that can be controlled through the DVR. These Cameras are so small as to go unnoticed, yet are rugged and completely vandal-proof. Sealed, watertight housings are weatherproof and high-pressure wash-down resistant (NEMA IP-66 rated). These High-Resolution cameras are made from rugged metal. They feature a thick Lexan viewing dome with an adjustable camera angle depending on how far away from the entrance you wish to start seeing the vehicle.
The HD-IP cameras have a 2.8mm fixed lens that is super wide (90degrees), 4-megapixel resolution (2K). This dome camera is not only IP67 Weatherproof Rated for outdoor use in any weather, but is also IK10 Vandal-Resistant Rated. This means that this camera has been tested with the equivalent of a sledgehammer weighing more than 11 pounds – being dropped onto the dome from about 18" – with no damage.
These High-Resolution cameras are pre-adjusted and pre-focused to provide the perfect solution to the viewing angles and distances you need to adequately document the condition of vehicles entering and leaving your facility. This makes installation a snap!
The N-SPEX TRUX STIX will give you a view of:
Left Side STIX: Left Top of Vehicle, left Side Upper, left Side lower, Front of Vehicle & License Plate
Right Side STIX: Right Top of Vehicle, Right Side Upper, Right Side lower, Rear of Vehicle & License Plate
For more information on the vehicle damage inspection system, contact one of our Design Engineers toll-free 866-301-2288 or stop by our website ruggedcams.com.