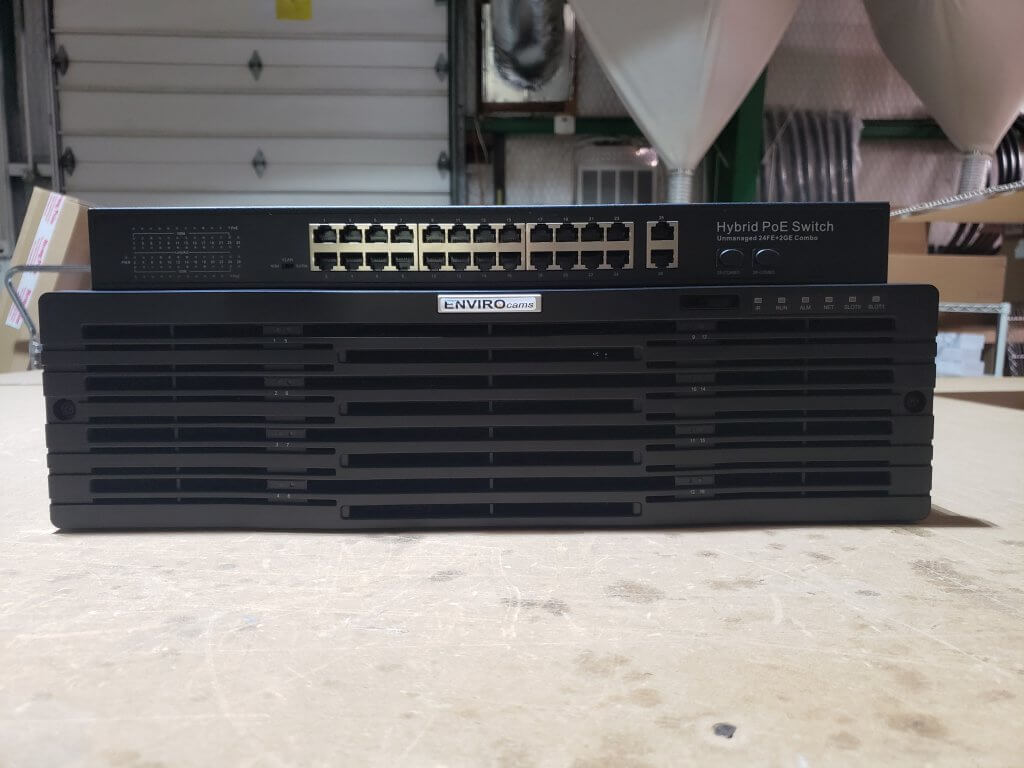 This NVR is a 128 Channel NVR, which is referred to as the "16128" series. The first two numbers refer to how many hard drives the unit can hold, and the last three numbers denote how many channels, or IP cameras it can accommodate. This NVR is built for a property like shipyards/dockyards, daycares, warehouse, self-storage units, apartments, or condo. (POE Switches are needed to complete Installation.) No need for multiple systems with this NVR.
Now take a look at all the great features this NVR offers.
Three Year Warranty – on every NVR we offer – including the hard drives.
UL LIsted (Required by many States and Cities, yet only found in a select few Brands)
ONVIF Conformance (3rd Party Cameras and Most VMS Platforms are supported and compatible – but will not be Extended Distance as with Enviro Cams)
Plug-N-Play Automatic Connections (Put an end to setting each IP address – Let Enviro Cams do it automatically!)
Extended Distance for Audio/Video/Power (Currently at least 820 Feet Over Cat5/6 – Soon to be 1000 Feet)
Supports H.264 / H.265 and our New H.265+ Video Formats (Enviro Cams new H.265+ Can Save up to 95% Bandwidth)
Audio Built-In for each Channel (All through the normal RJ45 Network connection)
Real-Time Display/Recording/Playback – up to 8 Megapixel Resolution
4K HDMI Support (or lower settings) – VGA also provided (1080p)
Supports Up To 8TB Hard Drives
Alarm Sensor Inputs & Relay Outputs
To get more information on this 128 Channel NVR or any of our NVRs contact one of our Design Engineers toll-free 866-301-2288 or stop by our website.