Rugged CCTV is introducing two new Stainless Steel Explosion Proof Cameras to their lineup.
The cameras, machined from stainless steel pipe and blocks, are pressurized with nitrogen to 45 psi, which prevents any outside dust or gases from entering.
There are two High Resolution models being introduced, a Day/Night Camera and an Infrared model as well.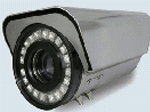 These cameras come standard with a Varifocal 5-50mm lens with magnetic adjustment, so there are no penetrations into the camera cavity and the pressurized housing.
Many other advancements were engineered into these cameras, such as 8mm thick bulletproof glass, a double sunshield design for better cooling, and high powered infrared lamps that can illuminate out to 300′ (infrared model only).
Rugged CCTV expects to have these cameras ready for release by the end of May 2012.