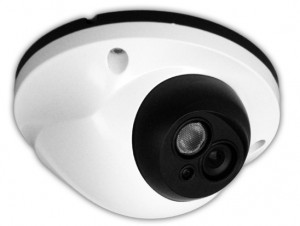 Infrared Dome Camera
Another Tough, Smart Security Camera design from Rugged Cams
Kemp, Texas — January 29, 2013 — The SlimPro-IR infrared dome camera is the latest innovation from Rugged Cams, a manufacturer of indoor and outdoor security cameras for challenging environments.
The SlimPro-IR is an indoor/outdoor infrared dome camera rated to IP66 weatherproof standards.
Best of all, the SlimPro-IR is a High Resolution camera running a SONY Effio chipset with 700 lines of resolution. So, you get beautiful, clear high resolution video at a low cost (under $100). The SlimPro-IR also has some excellent light handling qualities and has a diffused Infrared Lamp that delivers smooth, even lighting at night. This smooths out the infrared light so there is no "spotlight" effect of the light, unlike many other infrared dome cameras on the market.
The SlimPro-IR infrared dome camera is also a very low profile camera that hugs the ceiling and is only 2-1/4" tall. The low profile along with it's pure white body color blends in to most ceilings and does not attract much attention. Most people will not notice this low profile infrared dome camera.
The SlimPro-IR has a 3.6mm wide-angle lens built-in that is pre-focused so that all you have to do is hang it and run the wiring to it and you are done. The ball that holds the camera and infrared lamp, can be loosened to turn it in any direction and at any angle to facilitate mounting on any surface and at any angle. Once positioned, the camera ball can be tightened down to insure that the view will not change under rough conditions or severe vibrations.
Mounting the SlimPro-IR infrared dome camera is super easy. The integrated mounting ring is separate and is mounted quickly with three fasteners, then the camera attaches itself to that ring. The reslult is a vandal proof camera that cannot be interfered with in any way.
The SlimPro-IR operates on 12V DC, and comes with Rugged Cams' exclusive Two-Year Warranty.
######
Founded in 1993, Rugged Cams is a leading manufacturer of tough, ruggedized security cameras and DVR's for Business, Industry and properties of all types.
Rugged Cams is a registered trademark of Rugged CCTV in the United States and/or other countries.
For more information, press only:
Allen Spears – Chief Engineer
Rugged Cams
1-866-301-2288
201 N. Elm St.
Kemp, TX 75143
allensp@rugged-cctv.com