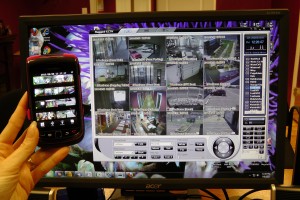 So you don't want to just access your new Rugged CCTV DVR through your smart phone's web browser any longer? Now you can do it DIRECT to your phone!
Need more than 1 channel at a time on your Droid iPad or other phone?
Want to be able to manipulate your PTZ cameras straight from your blackberry or other phone?
Well then today is your day!
Rugged CCTV has just partnered with a software company to create a new smart phone app specifically made for their H.264 DVRs. You can look at up to 16 live pictures at one time along with PTZ control straight from your phone as well.
You can download it from any app store for your iphone, ipad, blackberry and droid. This way when we come out with upgrades it will notify you immediately and you can download them no matter where you are!
Bigger viewing screens for your ipad and playback features – just around the corner. Stay tuned!