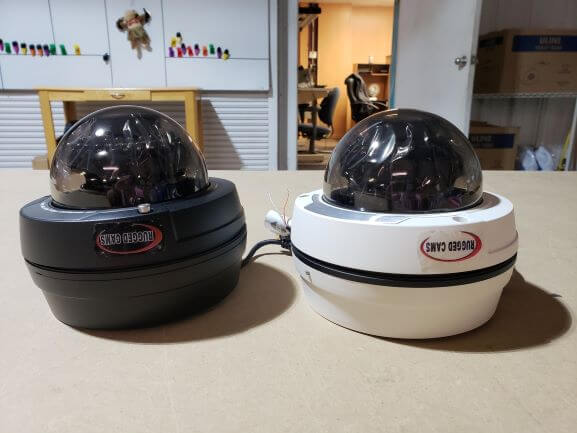 Available in: 960H Analog / HD-TVI / HD-SDI – Your Choice
The TVI version now has a Motorized Zoom Lens
Rugged Cams has reached the pinnacle of Dome Camera design with the Sentry series of dome cameras. The Sentry-HD Dome Camera and the Sentry-HD Infrared Dome Camera are the most robust, smartest dome cameras ever offered by Rugged Cams. When you compare the features, performance, and price of the Sentry-HD dome cameras, they are the best value of any dome cameras.
Security Dealers and end-users have ordered more of the Sentry series of dome cameras in the last few months, than any other dome camera we have ever offered. We have increased production of the Sentry domes to be able to keep up with demand. These dome cameras are that good, and you're about to learn why.
Best Dome Camera Housing Design In The Industry The Sentry-HD series is built on our new SentryDome frame housing. It has several innovations designed into it that make it the best dome housing in the industry.
Here are the Top 8 features of this new dome housing:
Totally Sealed against moisture and dust (IP68 certified)
More ways to mount it: Surface Mount, Flush Mount or optional Wall Mount
American 3/4" Conduit openings that take any type of metal, plastic or liquid-tight piping
Heated to withstand temperature extremes to -40º below zero
American Polycarbonate Dome is crystal clear with no distortions
Steel Wire Safety Harness ensures the top of the dome will not fall when installing or servicing
3-Axis Camera Positioning Bracket – allows the user to turn, rotate and align the camera to produce a straight and level picture under any mounting condition or angle
It is designed to be easy to install and part of Rugged Cams' new "Easy Pro Install System" – which, if needed, can also include an optional swing-out Wall Mount with additional conduit openings and increases the vandal-proof properties even more
To get more information on the dome cameras, contact one of our Design Engineers toll-free 866-301-2288 or stop by our website at ruggedcams.com.