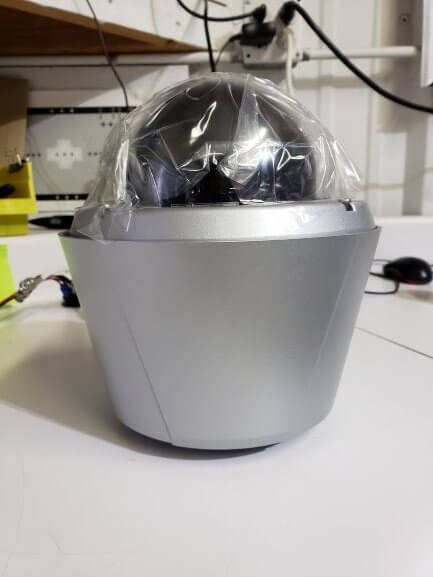 HD Over Coax – TVI
The Scout-HD-TVI PTZ is a non-infrared model for daytime or well-lit areas. This impressive, ruggedized PTZ Camera is a High-Speed Dome and has Panasonic's fantastic WDR Technology (Wide Dynamic Range) that handles bright and dim lighting beautifully.
The Scout-HD has a 30X Optical / 12X Digital Zoom Lens (4.3mm to 129mm).
This PTZ is rated at IP67 Waterproof and Weatherproof. How many PTZ's have you ever seen that were rated IP67? This heavy-duty ruggedized PTZ also has a Vandalproof case that will take a beating and keep on working.
This fantastic 2 Megapixel 1080p Day/Night PTZ Camera is also Dual Power capable (24V AC or 12V DC). It also has 3 Photo-Coupled Inputs that can handle 5-12V DC and also has one output Relay that can drive as much as 1 amp at 24V AC or a ½ Amp at 125V AC (if you need to drive more than this – we suggest a relay inline, or even a Contactor turn on/off resistive loads).
This high-speed dome can achieve up to 500 degrees per second speed when traveling to saved Presets, Swings, and Patterns. It also calculates the shortest path to get to a saved position by using
The Scout-HD has two video outputs (BNC) – one is TVI, and the other is Analog (CVBS).
The Scout can remember 209 Preset positions, 8 Patterns (up to 880 commands – approximately 4 minutes total per Pattern) 10 Swing Commands, and 8 Groups – which can be a combination of Presets, Patterns, and Swing commands.
Thew Scout can safely operate at temperatures from -30ºC to +50ºC (-22ºF to 122ºF).
The Built-in Heater turns on at 50ºF (10ºC), and the Fan stays on at all times. This means that condensation and fogging will not happen, and you can operate this rugged PTZ in virtually any weather.
The Scout-HD can be controlled entirely from our DVR's, and it also can connect RS-485 wiring and a PTZ Controller for control.
To get more information on the HD-TVI PTZ, contact one of our Design Engineers toll-free 866-301-2288 or stop by our website at ruggedcams.com.