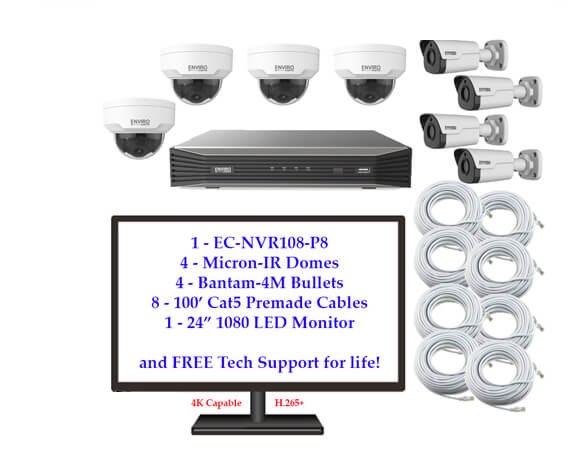 Purchase your special someone an eight-channel IP camera package from RuggedCams.
View and control your IP system from anywhere globally with Guard Viewer for your smartphone and tablet, or use Guard Station for your personal computer or laptop from work or home.
Not your father's IP system
1 – 8 Channel NVR – 6TB Storage: with all the features, not a stripped-down model, and the same three-year warranty. Features like: Plug-N-Play Automatic Connections (putting an end to setting each IP address-Let RuggedCams to do it automatically!) or Extended Distance for Audio/Video/Power (820 Feet over CAT5/6)
4 – Micron-IR Dome Cameras: with features like Super Wide-angle 2.8mm Fixed Lens (90 degrees wide) and IP67 Weatherproof Rated for outdoor use in any weather.
4 – Bantum-4M Bullet Cameras: with features like 4 Megapixels (2K) with a built-in microphone. It gives you excellent high definition video indoor or outdoors and picks up audio very well.
8 – 100′ Pre-Made Cat5e Cables
1 – 24″ Color 1080p LED Monitor: The LED-backlit LCD color monitor presents a very rugged structure. It is designed for continuous operation and can be used in closed-circuit TV systems without excessive fatigue risks.
For more information on the eight-channel IP camera package, contact one of our Design Engineers toll-free at 866-301-2288 or stop by our website at ruggedcams.com.