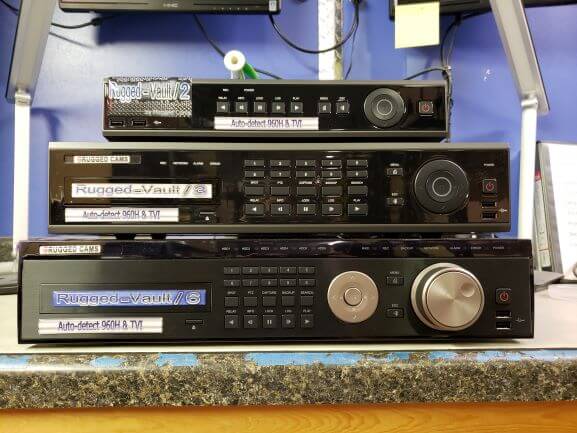 HD-1080p & Communication Over A Single Coax
No Distance Limitations / No CAT5 / No Router / No Switch
Rugged Cams brings you the Ultimate Hybrid DVR that delivers HD-1080p Megapixel Video – PLUS – it recognizes any Legacy Analog cameras you may already have.
No Hassle – Instant HD Video with a Single Connection – Up To 1500 feet!
The Rugged Vault Hybrid DVR is stuffed with every feature you and your business will need to bring beautiful, HD-1080p Video to your Desktop, Laptop, Phone, or Tablet. Manage it from anywhere – and on any device!
Many of our Megapixel Cameras Have ZOOM LENS Control from the DVR or your Phone/Tablet
Since the Rugged Vault Hybrid DVR can automatically sense between HD-TVI cameras and any Legacy Analog cameras you may already have, this DVR is ready to grow with you slowly replacing old cameras with new Megapixel cameras. Mix & Match any way you like!
The Rugged Vault can record REAL-TIME for every channel – no matter the resolution!
The Rugged Vault Hybrid DVR has a very easy to navigate menu structure that is easy to grasp right away. You will find that it is effortless to navigate through the many options for how and when to record – real-time or motion-based – and can even speed up the process of searching for events in your recorded footage, with Smart Search and Event Search features that can find the evidence you need in a matter of minutes.
This great Hybrid DVR series has so many features; we literally cannot list them all here. For example, a "Signal Booster" is built into every channel that corrects weak or fuzzy signals. It can also give you Alarm Notifications on your Phone or Tablet (via our handy App), a Gigabit Ethernet Port, Two-Way Audio Communication, and many types of recording (External Sensor, Motion, Audio Detection, Text/POS, etc.).
From more information on the Hybrid DVR, there are two ways to contact us by phone toll-free 866-301-2288 or by stopping by our website at ruggedcams.com.
Talk to one of our Sales Engineers today about choosing the model and Chassis that best suits your needs. Capacities include: 2 Hard Drives – 3 Hard Drives – 6 Hard Drives – & External RAID Storage.PLUS – Don't Forget – Rugged Cams gives you FREE Tech Support for LIFE!