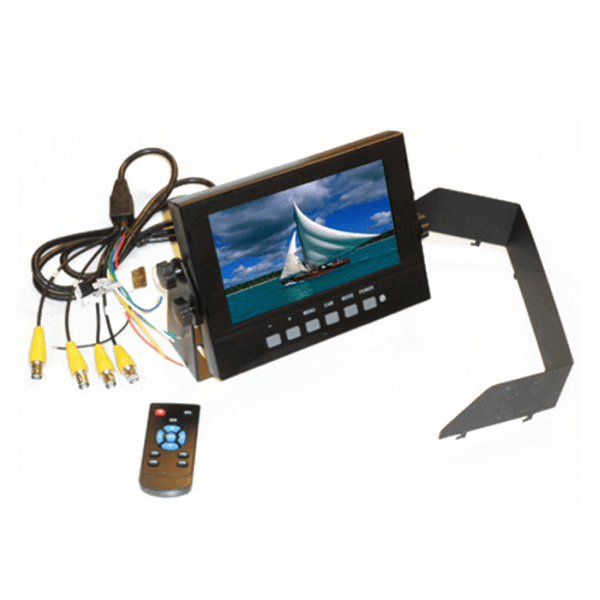 The 7″ WaterProof Monitor has two options to choose from the 2 Channel model or the 4 Channel model, at an affordable cost and still loaded with lots of features.
Features:
7″ Digital Color LCD TFT Monitor
2 Channel Model or 4 Channel Model with Quad Switcher
Sealed Aluminum Alloy Case with Steel bracket and plastic visor
Dustproof
Waterproof
Explosion Proof
Uses 200mA of 12V DC power
Hydrochloric Acid Resistant
IP69K Rated (better than IP68 – can handle high-pressure heated wash-down water and chemicals)
Each channel can be switched from normal to "Reverse" images.
Front Panel Controls and Wireless Remote Control included
Trigger Wires included call-up of any channel automatically (by switch or connect to back-up, blinkers, etc.) Can set delay time for camera call-up as well.
Standby mode can also power up only when triggered.
2 Channel Model: single-channel selectable (2 BNC Inputs)
4 Channel Model: single, dual, triple & quad images selectable (4 BNC Inputs)
The menu can be changed from English to Dutch, Spanish, Portuguese, French, German, Italian, and Russian.
Wide Voltage Range: 12-32 Volts DC
Wide Temperature Range: -22°F to 175°F (-30°C to 80°C)
Wide Viewing Angles: Up: 50° Down 60° Side to Side: 70°
16:9 Aspect Ratio
For more information on the 7″ WaterProof Monitors, contact one of our Design Engineers toll-free 866-301-2288 or stop by our website at ruggedcams.com.